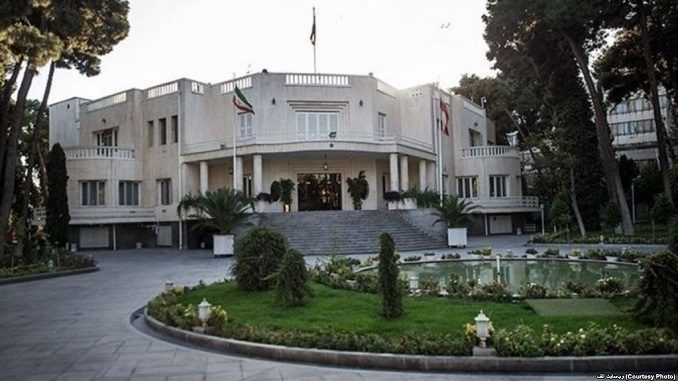 Guards at Iran's presidential office building in Tehran opened fire, wounding a man carrying a large blade and trying to enter the compound, Iranian media said on February 5. The attacker was shot in the leg when trying to pass the security gate, Tasnim News reports.
Hamid Reza Goudarzi, deputy security chief, was quoted by the IRNA official news agency as saying that the 35-year-old man was taken to hospital. IRNA says the man had managed to pass through the first checkpoint, one of several.
According to Iranian media, the man was wielding either a large knife or a sword, and was wearing a white shroud, symbolizing his readiness to sacrifice his life. The building is located in a district of Tehran that is also home to other key government institutions.
There was no information on his condition or possible motives for trying to enter the presidential complex. It wasn't clear whether President Hassan Rohani was in the complex.
Swords and daggers are carried by Iranian men as part of traditional dress, although such items would be an unusual sight in downtown Tehran. Police have been known to confiscate weapons near official buildings.
Attempts to enter the presidential compound with a sword are rare, though Iranian men occasionally carry swords and daggers, especially when in traditional clothing. Police have tried to dissuade people from carrying such arms and occasionally confiscate the weapons.
Iran has been restive in recent weeks since protests against the government began in December over rising inflation and joblessness.  The demonstrations have morphed into calls for both President Rouhani and supreme leader Ayatollah Ali Khameni to step down.
Almost 5,000 people have been arrested in connection to the protests to date, according to Tehran prison service figures quoted last week.