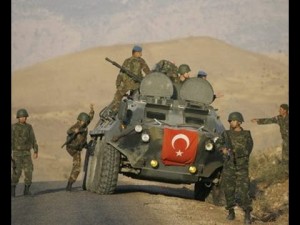 Tehran has unexpectedly summoned the Turkish ambassador to lodge a strong protest against statements and regional policies of Turkey. This development comes after a few days of Tehran indirectly attacking Ankara's posture toward the Shia-dominated central government in Iraq and Turkish insistence that its troops play a combat role in the fight for Mosul.
Tehran has come against the Turkish wish for a military role and strongly supports the Iraqi Prime Minister Haider al-Abadi in his denunciations of Ankara's stance. The Iranians are also closely watching Russia's position in regard to developments in Iraq.
The Iranian media have reported that President Vladimir Putin is "siding with Iraq" in the heated spat between Baghdad and Ankara. If this is true, then from an Iranian perspective, Turkey will very quickly find itself isolated as it flexes its muscle on the question of the liberation of Mosul from ISIS. Ankara's goal has all along been to carve out maximum political and military gains for the Sunni Iraqi forces that Turkey is backing and prevent Iran and its Shia Iraqi allies from moving north into Sunni-dominated areas bordering Turkey.