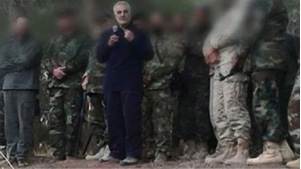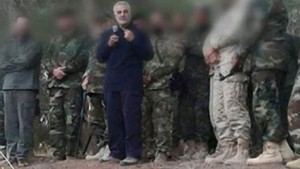 October 22, 2015: Recent photos from Syria show internationally designated terrorist Iranian Revolutionary Guards Corps (IRGC) Quds Force Commander Qassem Soleimani rallying Revolutionary Guard and Hezbollah fighters in support of the Assad regime.
The highly recognizable Quds Force Major General is listed as a terrorist by the US and international sanctions are still in place that forbid him leaving Iran.  Soleimani is one of a group of Iranian officials listed in a 2007 United Nations travel ban because of their alleged links to Iran's nuclear or ballistic missile programs. The sanctions against Soleimani are due to be lifted when the Iran nuclear deal with world powers is implemented.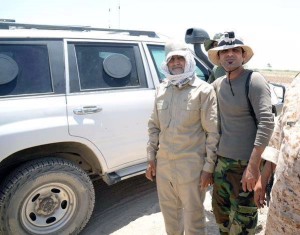 However, this is not the first time that Iran and Soleimani have flouted sanctions and he's been spotted on multiple occasions in Iraq; for example in Fallujah as reported by Iran's Al Alam citing Hezbollah's Al Manar. Fars News reported in March (2015) that the IRGC-QF commander was on the ground in Jurf al-Sakher and that early August (2015) he met with Kurdish leaders in Irbil and Sulaymaniyah.