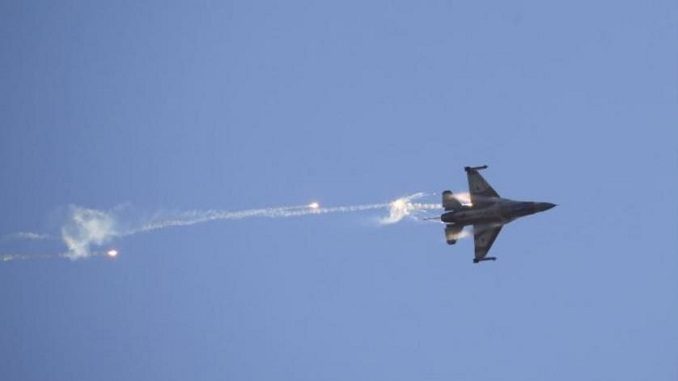 Syrian air defense systems intercepted an Israeli air attack on a military position near the capital Damascus on Wednesday, Syrian forces said as an Israeli minister held Iran directly responsible for such raids, Asharq al-Awsat reports.
"This morning, Israeli warplanes fired several missiles from Lebanese airspace on one of our military positions in the Damascus countryside. Our air defense systems blocked them and destroyed most of them," said a Syrian military statement carried by state media.
The Syrian Observatory for Human Rights, a Britain-based monitor of the war, said at least some Israeli missiles had hit military targets near Damascus.
"Syria's air defense system blocked some of the missiles, but others hit ammunition depots near Jamraya," Observatory head Rami Abdel Rahman said.
Tuesday night's alleged attack in Syrian territory was the second in a month. On January 9, Damascus accused Israel of launching missiles targeting military outposts in the area of Qutayfah, in the Damascus countryside.
According to the report, Israeli jets flying inside Lebanese airspace fired several missiles towards the al-Qutayfah area at around 2:40 in the morning, causing damage near the military site. A statement released by Syria's General Command said several missiles were intercepted by the regime's air defenses, which also hit one of the Israeli planes.
Israel was also reported to have fired two surface-to-surface missiles from the Golan Heights at around 3:04 a.m., and another four missiles from around the area of Tiberias. The Syrian army statement claimed all missiles were intercepted but some damage was caused as a result of the interception.
Israeli officials have repeatedly voiced concerns over the growing Iranian presence on its borders and the smuggling of sophisticated weaponry to Hezbollah in Lebanon via Syria, stressing that both are red lines for the Jewish State.
Amid reports that the Israeli air force struck an Iranian base in Syria overnight Tuesday, Israeli security cabinet member Naftali Bennett said he's advancing a strategy in which Israel will confront Iran directly rather than just going after its proxies."
"Iran is behind the anti-Israel activity in Syria and Lebanon. Iran's Supreme Leader Ali Khamenei is willing to fight Israel until the last drop of Syrian, Lebanese and Gazan blood, but does not send his own troops. For 30 years we have been sending our soldiers to fight Iran's" proxies in the region, he said.
"The force behind everything is Iran and we must pinpoint the laser on it. I am putting forward a strategic line and saying that we will not be handling things with surgical precision, we view neighborhoods that have rockets as legitimate targets," he said, neither confirming nor denying Wednesday's raid.
Bennett was responding to a question whether an attack on Iran was imminent.  Bennett also called out past Israeli governments for allowing Hezbollah to arm itself with hundreds of thousands of rockets that could be used against Israel in future conflicts.
"In Lebanon there are more than 100,000 imprecise rockets. If they were accurate, they would constitute a significant threat to Israel, something we will not allow to happen at any cost. Between the years 2006-2012 Israel allowed Hezbollah to arm itself with 130,000 rockets. It was a strategic failure. Now they are seeking to make all those rockets precise and we will not allow that to happen," Bennett warned.
Israel has carried out dozens of airstrikes inside Syria in the course of Syria's civil war, against suspected arms shipments believed to be bound for "Hezbollah," which is fighting alongside Syrian regime forces.