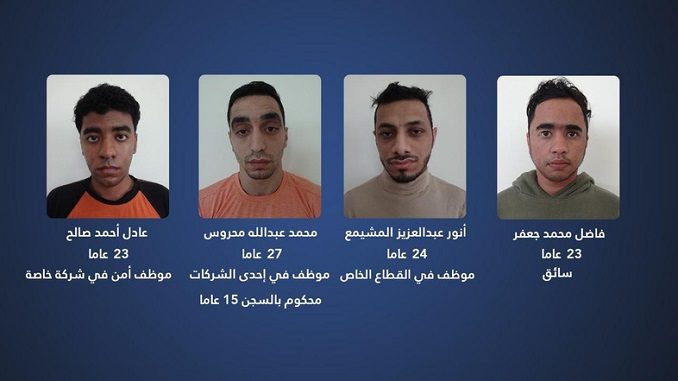 Bahrain has announced that four extremists were arrested on Wednesday for their involvement in the explosion of an oil pipeline last year, Al Arabiya reports. The investigation also revealed that two of those arrested had received intensive training at the Iranian Revolutionary Guard camps with the help of the leading fugitive terrorists living in Iran.
As part of counter-terrorism operations and to maintain national security, the four extremists were identified as part of the outlawed terrorist group February 14 Coalition. They were arrested for plotting the bombing of an oil pipeline near the Buri village on Nov. 10 last year.
No one was injured in the explosion near the Shi'ite village of Buri and no militant group immediately claimed the blast. The explosion came amid years of low-level unrest in the Shi'ite-majority nation, which is led by a Sunni monarchy closely aligned with Iran's regional rival, Saudi Arabia.
They were identified as Fadhel Mohammed Jaffar Ali, 23, Anwar Abdulaziz Musa Jaffar Mushaima, 24, Mohammed Abdullah Isa Abdullah Mahroos, 27, and Adel Ahmed Ali Ahmed Saleh, 23.
A ministry statement said authorities had arrested four people, two of whom had received intensive training in Iran to carry out attacks to harm Bahrain's economy and its oil pipeline.
"Immediately after their return from Iran, they planned and got ready to blast the oil pipeline …in addition to committing a series of other terrorist acts. They checked out the location and remotely bombed the pipeline," the ministry said.
Authorities were searching for three others "involved in the financing, planning, and implementation" behind the attack, the statement said, two of which live in Iran.
The interior ministry accused all seven of belonging to the "February 14 Coalition" — a reference to a protest movement that emerged in 2011 against the Al-Khalifa dynasty, which has ruled Bahrain for more than two centuries. Protests have continued to rock the Sunni-ruled, Shi'ite-majority kingdom as authorities escalate their clampdown on political dissent, frequently accusing opposition figures of links to Shi'ite Iran.
A key Western ally and host to the U.S. Fifth Fleet, Sunni Muslim-ruled Bahrain has for years grappled with protests mainly by members of its Shi'ite Muslim majority who demand a bigger share in running the kingdom. Several Bahraini dissidents reside in Iran, calling for armed struggle to uproot Bahrain's ruling Al Khalifa monarchy in a holy war.
Since 2011, hundreds of Bahrainis have been stripped of their citizenship and protestors and opposition leaders jailed or driven into exile. Bahrain accuses Tehran of supporting the opposition in a bid to overthrow the government, but Tehran denies involvement.
Iran denies allegations it is behind Shi'ite insurgents in Bahrain. Iran has called accusations that it had any role in supporting violent acts in Bahrain "baseless and fabricated", but it has allowed the exiled Bahrainis to promote their ideas on Iranian official media and hold mourning ceremonies for those involved in deadly attacks in the country.
Iran's foreign ministry said it "dismisses Bahrain's baseless, false claims" after Manama arrested four men on Tuesday accusing them of links to Iran and holding them responsible for November's explosion.
"It is better for Bahraini officials to establish a serious dialogue with their people to put an end to the crisis in the country instead of raising worn-out claims… and suppressing the legitimate demands of their people," the statement continued.