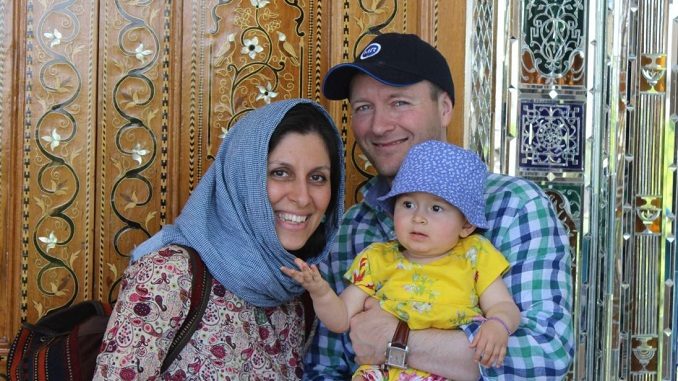 Nazanin Zaghari Ratcliffe, the Iranian-British dual citizen who is in jail in Tehran, has been informed by Iranian authorities that she will have a second trial on December 10 on the charge of "spreading propaganda," her husband Richard Ratcliffe told ABC News.
The 38-year-old mother-of-one has been detained and imprisoned since April 2016, and is now serving a five-year jail sentence on a charge of attempts to topple the Iranian government by training journalists, a charge that she and her family denied. Now, the news of a second trial and the possibility of extending her sentence have worried her and her family.
"She was angry and upset. To us, court cases have always meant more charges and long sentences," her husband told ABC News Thursday.
This latest development has dashed her husband's hopes of seeing his wife back in the UK anytime soon. It's just one more bump on the road, following comments made by British Foreign Minister Boris Johnson earlier this month that many observers feel jeopardized Nazanin's chance of a release.
The comments contradicted the position of the British government, as well as Zaghari Ratcliffe's family and defense team, and were seized on by Iranian media as evidence of her guilt and that she was involved in spying.
Mr Johnson later apologised and telephoned Javad Zarif, the Iranian foreign minister, to make clear that Zaghari had been on holiday. She was initially sentenced to five years in prison after being found guilty of plotting to overthrow Iran's clerical establishment.
The Iranian government denies mistreating Nazarin Ratcliffe and says she has the right to twice-weekly contact with her family, including her daughter, who is living with relatives in Tehran. The Iranian government does not recognize dual nationals and therefore does not permit them consular assistance.
In October Nazarin Ratcliffe's family said she had been informed she would face fresh charges that could carry an additional sentence of 16 years in jail. The Iranian embassy in London at the time confirmed that she may face new charges, but denied that she was facing an extra 16 years.
Meanwhile, it was a "great relief" to find out that Nazanin did not have cancer, her husband has said. Richard Ratcliffe, whose wife has been held in Iran since April 2016, told BBC London that doctors in Iran will see Zaghari-Ratcliffe again in three months. Ratcliffe told Sky News his wife was examined by doctors after lumps were discovered on her breasts, but said they were found to be non-malignant.
"She's been poorly, we had concerns about her lumps on her breasts but fortunately the doctors said that they're not cancerous so that was a big relief. Emotionally, it's a terrible rollercoaster and that's probably the greatest burden," he said, adding that his wife was no longer in solitary confinement and said he found comfort in knowing his wife had "people to turn to" in prison.
"She's certainly in a very traumatised way but I am glad for the solidarity and care that the other prisoners provide," he added.