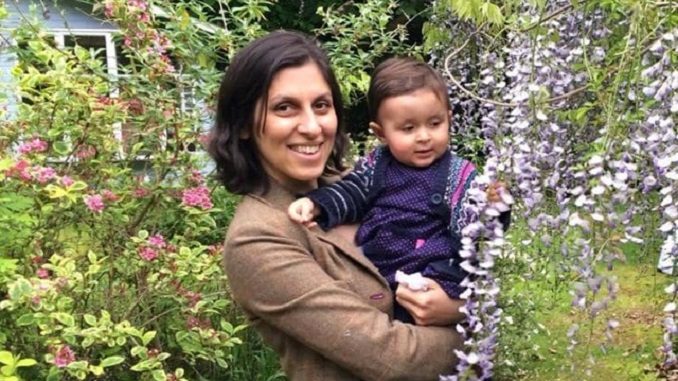 Iranian judicial officials are misrepresenting Nazanin Zaghari-Ratcliffe's past jobs and her British citizenship to persuade the UK government to negotiate with the Iranian government for her release, her husband, Richard Ratcliffe, told the Center for Human Rights in Iran (CHRI).
"The Tehran prosecutor emphasized that she has a British husband, that she is British-Iranian and worked for the BBC and kind of suggested that the British government needs to do something. The reason they are bringing up the BBC instead of Reuters is to emphasize her Britishness in a way that is quite different than before," he said.
Speaking to IranWire, Richard Ratcliffe said transparency was key to resolving the situation, and that the silence from officials on both sides had to end.
"I have been pushing the [UK] government all along to be clear about what's going on, and pushing the government to be clear about the fact that Nazanin's rights are being abused, and that she didn't do anything. I said that a year and a half ago and I say that now. Now I'm also saying the Iranian government should also say her rights are being abused, and that she shouldn't be used in this way."
Speaking at a gathering of assistant prosecutors on October 17, 2017, Tehran Prosecutor Abbas Jafari Dowlatabadi claimed the imprisoned dual national directed "propaganda activities" against Iran.
"Her husband is a British citizen and she has British and Iranian citizenship as well, and she worked for that country's government. She was in charge of teaching online journalism at the BBC's Persian service with the objective of attracting and training individuals for propaganda activities against Iran," he said.
The director of the BBC World Service, Frances Unsworth, stated in January 2017 that Zaghari-Ratcliffe never worked for BBC Farsi, and never ran or directed any program at the BBC. In a statement issued on October 18, 2017, the FreeNazanin Campaign responded to a claim by Dowlatabadi that Zaghari-Ratcliffe had received a letter from former UK Prime Minister David Cameron.
A researcher for the Thomson Reuters Foundation in London, Zaghari-Ratcliffe was arrested in Tehran in April 2016 while waiting for a flight back home with her two-year-old daughter after visiting family. She is serving a five-year prison sentence on unspecified espionage charges. In October 2017, Ratcliffe announced that his wife, who has been diagnosed with advanced depression, was facing charges that could add 16 more years to her prison sentence.
In the interview with CHRI, Ratcliffe said both governments are responsible for upholding the rights of their citizen.
"The British government needs to protect its citizens and the Iranian government needs to protect its citizens from being used as bargaining chips," he said.
Meanwhile, Amnesty International is hosting a special performance of the play about the Nazanin Zaghari-Ratcliffe at its east London headquarters on Monday 23 October. The play, "Looking for Mummy: Nazanin's Story" which was recently performed at the Edinburgh Fringe and longlisted for Amnesty's 2017 Freedom of Expression Award, tells the true story of the 38-year-old charity worker's arrest while on a family holiday in Iran last year and her anguish at being sentenced to five years in jail after an unfair trial.
Responding to news from Richard Ratcliffe that his wife may be facing additional criminal charges and a further prison sentence, Amnesty International UK's Campaigns Director, Kerry Moscogiuri, previously said:
"The new criminal proceedings against Ms Zaghari-Ratcliffe are as baseless as the original ones, and once again criminalize this charity worker's peaceful exercise of her rights to freedom of expression and association through her work with Reuters and the BBC. The UK Government should now break its silence on the case and publicly call for Ms Zaghari-Ratcliffe's immediate release."