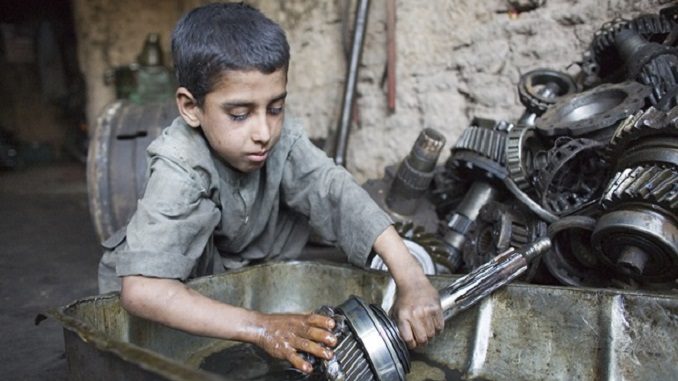 Child labor and human trafficking represent a serious problem in Iran, with many blaming the government itself for perpetuating these terrible crimes. Reza Ghadimi, the Managing Director of the Tehran Social Services Organization, responded to a question about child workers and that most of them were Afghans and their families were forced to send them to work due to poverty, according to the state-run ILNA news agency report from October 14.
"In most cases, the parents of these children are not even living inside Iran and they are sent inside Iran… Maybe Welfare Centers do not have enough facilities, but it's better for them (the children) than to be in the corner of streets in the cold, especially in light of the fact that 90% of them are sexually abused", he said.
Research shows 45% of labor children and those living on the streets are suffering from illnesses such as AIDS, hepatitis and others. These children are also known to be suffering from malnutrition, being short in height, low weight, skin illnesses and psychological disorders. Many such children work at least 6 hours a day and don't eat even a single decent meal, providing the grounds for these children to obtain even more illnesses.
Despite enduring all this suffering these children only receive one fifth of a normal worker's salary. However, a long slate of risks continuously threatens their lives. If they suffer any injuries, there is no entity willing to provide any support at all. Those children who are obligated to help their families make ends meet, those who do not have proper IDs, find themselves being sold by their families, not knowing where they will end up.
Iran's Law for the Protection of Children and Juveniles, which came into effect in 2002, is vague on sexual abuse. Article 2 states:
"Any form of abuse of children and juveniles that causes physical, psychological or moral harm and threatens their physical or mental health is prohibited."
Article 5 describes child abuse as a general crime that does not need a private plaintiff for prosecution. But the law specifically excludes the term "child sexual abuse" and does not define punishment for it. Recently, Iranian media published reports on seven million child laborers, as well as a significant number of children abused in the drug trade.
According to an official of the Iranian regime's welfare orgainzation, while many children do not have "identity papers," the Ministry of Health requires them to have identity document to use the medical facilities of the ministry.
Habibollah Massoudi Farid, social deputy of the welfare organization made the statements in an interview with the state-run ILNA news agency. According to him, "many of these children, whether Iranian or immigrant, lack identity papers and subsequently insurance," and therefore they cannot use for free the health centers of the Ministry of Health."
The social deputy of the Iranian Welfare Organization described the situation of children who search in garbage for food as "critical" and said that these children "often work in hidden layers," and searching in garbage threatens their "mental health and dignity."
Following a significant increase in the number of working children in Iran, government agencies have begun collecting working and street children, a plan which, according to the regime officials, has so far been implemented "30 times with no success."
The Iranian regime instead of using the country's financial resources to improve livelihoods, achieving employment and improving the living conditions of the people and particularly vulnerable groups like children, applies repressive plans and punishment of the families who have no choice but forced to or unknowingly send their children to work.
According to experts, these projects instead of fundamental combat against this phenomenon affect disadvantaged and deprived children and victims and put them under more pressure.
Human trafficking and child labor have become increasingly prevalent in Iran, which according to reports is now one of the worst offenders of children rights in the world. The Iranian government has done little to resolve this issue, and has in fact been implicated in human trafficking and the exploitation of children.