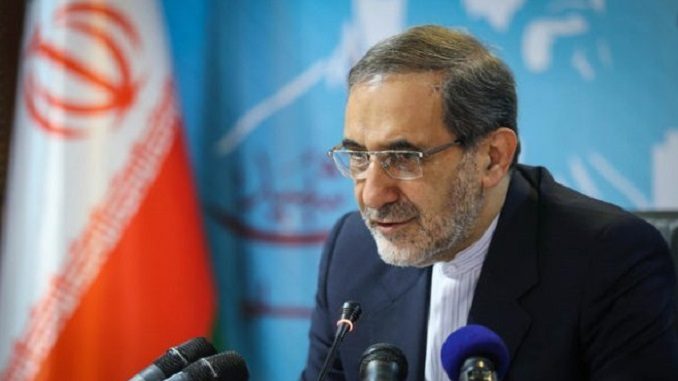 During a visit to Aleppo where he met with militias backed by Tehran, Iranian Supreme Leader Ali Khamenei's top adviser Ali Akbar Velayati threatened to "clear" areas in Syria.
"Soon we will see eastern Syria cleared, and then the Idlib area in the west," said Velayati in comments reported by Mehr news agency. In his comments, the Iranian adviser was alluding to the city of Raqqa, which is now controlled by the coalition-backed Syrian Democratic Forces, an alliance of Arabs and Kurds, in addition to the city of Idlib, ruled by a "de-escalation" settlement which saw a Turkish military deployment under an agreement reached with Moscow and Tehran. Velayati on Friday said Syrian army forces would soon advance to take Raqqa city from the SDF and accused the United States of seeking to divide Syria by stationing its forces east of the Euphrates.
"We will witness in the near future the advance of government and popular forces in Syria and east of the Euphrates, and the liberation of Raqqa city," he said in televised comments on a visit to Beirut.
Velayati was speaking to what RT news channel described as "Iranian volunteers" and militias supported by Tehran. Meanwhile, units from Iraq's Popular Mobilization Forces started on Wednesday their attack on the Bukamal city, the last stronghold of ISIS in Syria. Syrian forces and their allies announced tightening the noose on the city, in the countryside of Deir ez-Zor, and said that they met with Iraqi forces at the joint border between Iraq and Syria after clearing the area of the collapsed remnants of ISIS terrorists.
Director of the Syrian Observatory for Human Rights Rami Abdel-Rahman told Asharq Al-Awsat that PMF units reached the vicinities of the Bukamal suburbs, while regime forces were still at a distance of around 15 km from the city. Abdel-Rahman was surprised by reports broadcasted by "Hezbollah's" war media that regime forces had completely besieged Bukamal.
"ISIS still controls the western and northern parts of the city, while fierce battles are still taking place at the southern and eastern sides," he said.
According to Abdel-Rahman, large numbers of PMF fighters had arrived at the entrances of the southeastern part of the city, adding that those Iraqi units had joined Syrian regime forces at the border a few days ago and are currently at a distance of 18 kilometers from the city.
"Syria's army and its allies will keep fighting in Syria after the battle ends in Deir ez-Zor province, where Islamic State has its last significant stronghold, Syrian President Bashar al-Assad said on Tuesday.
He also indicated that he might take the war to the U.S.-backed Syrian Democratic Forces (SDF), which controls more than a quarter of Syria, by saying the war targeted those who seek to "divide and weaken states." His comments came after a meeting with Ali Akbar Velayati.