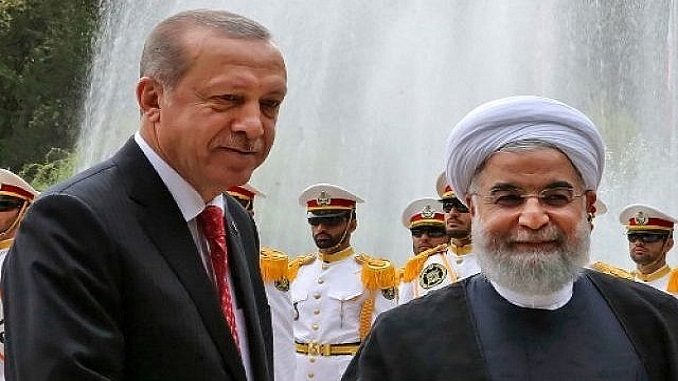 Turkish President Recep Tayyip Erdogan visited Iran on Wednesday to hold crucial talks with his Iranian counterpart Hassan Rouhani and Supreme Leader Ayatollah Ali Khamenei, in a sign of warming ties between the two neighbors who support rival camps in Syria but both strongly oppose last week's Iraqi Kurdish vote for independence, Iranian media reported.
The two governments fear the secession of Iraq's Kurds would stoke separatist sentiment among their own large Kurdish minorities and are eager to work together with the federal government in Baghdad to block it. Apart from political issues, bilateral economic ties will top the agenda of the planned talks between the Iranian and Turkish officials.
The atmosphere for the talks is a far cry from Erdogan's last visit to Tehran in January 2015 when a speech he gave just days before sparked demands from some Iranian lawmakers for it to be cancelled. The Turkish leader had accused Iran of seeking to "dominate the region" and demanded that it withdraw its troops from Iraq and Syria.
Erdogan was preceded in Tehran by Turkish armed forces chief of staff General Hulusi Akar, who arrived on Sunday, and met with Iranian Defense Minister Hatami to discuss another mutual issues.
Hatami said Iran and Turkey would not allow the realization of a new U.S.-Israeli plot in the Middle East to partition regional countries, adding "cooperation between Iran, Turkey and Iraq can help with the establishment of stability and security in the region and counter any measures to partition regional countries, Mehr News Agency reported.
He welcomed Turkey's involvement in settling the Syrian crisis, highlighting the need for preserving Syria's territorial integrity and reaching a political solution to the crisis based on Syrian-Syrian talks and the public's votes.
But despite the warming up of relations, there remains a mutual mistrust between Tehran and Ankara and the general opinion is that Erdogan could not be trusted and Iran shouldn't follow Turkey's footsteps for countering Kurdistan, by showing muscles and military power.
Sadegh Ghorbani, a Tehran-based analyst, agreed that while the Kurdish issue has drawn Turkey and Iran together, Iran "has the least concern about Kurds".
"Unlike in Iraq and Turkey, in Iran many Kurds consider themselves original Iranians. I think the main reason behind Iran's opposition is that cessation of Kurdistan will harm the integrity of Iraq, and can create a new conflict near Iran's borders and will also distract everyone from combating DAESH," he said.