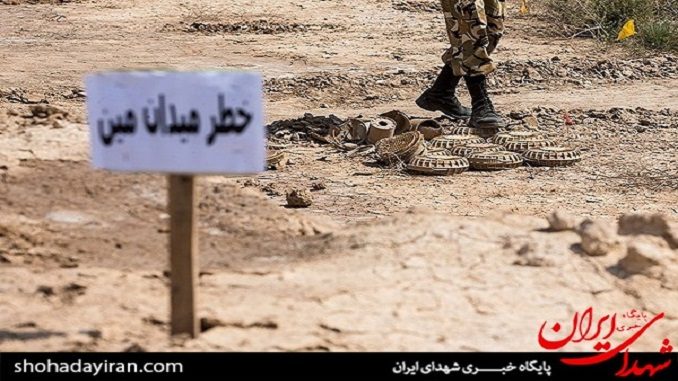 The victims maimed by mines in Iran's border regions are not only entitled to damages under the country's Islamic Penal Code, but could also qualify for funds set aside by the Interior Ministry's Article 2 Commission for wounded veterans, says an attorney representing them.
Hossein Ahmadiniaz told the Center for Human Rights in Iran (CHRI) on September 27, 2017 that "there can be only be compensation for part of the damages since psychological damages can never be repaired.
Millions of landmines that were laid by Iraqi forces in Iran's western provinces during the Iran-Iraq War (1980-88) that were never cleared continue to threaten the lives of people living in towns and villages near the Iran-Iraq border.
"One client, Ghader Nabati, is a border tradesman who in 2014 stepped on a mine in the Baneh border strip and lost his right leg below the knee. He has not being given a pension as a victim of war nor has he been given compensation for his hospital bills or medical expenses," said Ahmadiniaz, who has been representing landmine victims since 2006.
"My other clients, Soleiman Jafari and Hadi Lezgi, from Bukan, were blinded in both eyes and lost one of their hands when they stepped on a mine 14 years ago. The Article 2 Commission agreed that they should receive veterans' pensions, but the Martyrs Foundation has rejected it. This is a great injustice," he added.
Iran is not a signatory to the United Nations' 1997 Mine Ban Treaty, known as the Ottawa Convention on the Prohibition of the Use, Stockpiling, Producing and Transfer of Anti-Personnel Mines and on their Destruction. In some situations the authorities accused victims of crimes to avoid paying compensation.
Last week a victim of a mine explosion in Piranshahr [West Azerbaijan Province] stepped on a mine as she was herding her sheep on a mountain one night, loosing a leg, but the police accused her of being a trafficker and refused to issue an accident report required by the Article 2 Commission to prove disability for a pension.
In December 2016, a letter signed by 130 artists urged President Hassan Rouhani to help those who have lost the ability to support their families as a result of landmine injuries. Previously in May 2014, a group of environmentalists complained about mines laid in Kavir-e Lut desert in the eastern part of the country. Announcing the creation of the Mine Clearing Collaboration Campaign, Nobel Peace laureate Shirin Ebadi called on the Iranian government to join international anti-mine agreements in 2004.
"They could have cleared the mined areas, long ago. A country as rich as Iran should not contain even one hectare of mined land 15 years after the end of the war," she said.