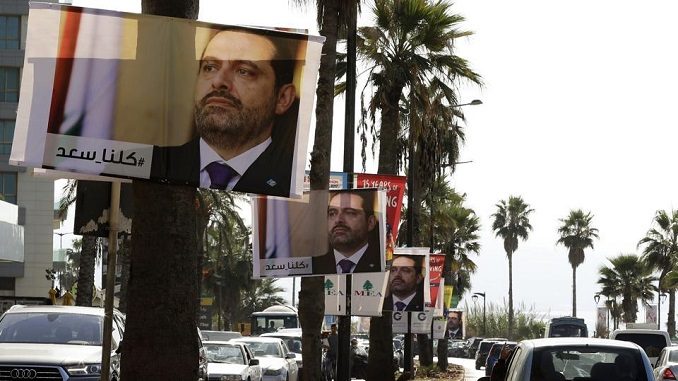 Iran said on Monday that it does not interfere in Lebanon and that comments on Sunday by Saad al-Hariri, who resigned as Lebanese prime minister nine days ago, gave hope he would soon return to his country. Iranian Foreign Ministry Spokesman Bahram Qassemi said the Islamic Republic has always respected Lebanon's independence, stability and peace, stressing that Tehran never interferes in the Arab country's internal affairs.
"We have always wanted stability, security and peace in Lebanon", Qassemi said at his weekly press briefing on Monday. The Iranian spokesperson further underlined that Tehran's principled policy is non-interference in the internal affairs of others.
"We never meddle in other countries' internal affairs and the issue of Hariri ('s resignation) is up to the people of Lebanon."
The resignation of the Saudi-allied Saad Hariri's and its aftermath have put Lebanon back to the forefront of the conflict between Shi'ite-led Iran and its regional Sunni rival Saudi Arabia. Riyadh blames Lebanon's Iran-backed Hezbollah for the resignation, accusing it of hijacking Lebanese politics. Tehran has accused Riyadh and its allies of trying to stoke tension in the Middle East. In a television interview on Sunday, Hariri said he would return to Lebanon within days and held out the possibility he could rescind his resignation if Hezbollah agreed to stay out of regional conflicts such as Yemen. The comments were his first in public since he quit from Riyadh on November 4. In an interview from Riyadh with his party's Future TV, Hariri brushed aside rumors that he was under de facto house arrest in the kingdom, from which he announced his surprise departure.
"I am free here. If I want to travel tomorrow, I will. I will return to Lebanon very soon," Hariri said, adding later that he would land in Beirut "in two or three days."
Iran says it hopes that Hariri, who has resigned as Lebanon's prime minister, will return home from Saudi Arabia. Qassemi said that Hariri's Sunday remark that he would return to Lebanon offered "a flicker of hope" that calm would be restored in the Arab country.
"Hariri's remarks on Sunday gave small hope of the possibility of his return to Lebanon…Iran does not interfere in Lebanon's affairs," Foreign Ministry spokesman Bahram Qasemi was quoted as saying by state TV.
The shock announcement of Lebanese prime Minister Saad Hariri's resignation is making many wonder what the reasons were behind his decision. There are many political reasons such as the influence of Hezbollah which is in control of around a quarter of the Lebanese territory and is more powerful than the country's army.
Iran is the one behind Hezbollah and Syria's interference in Lebanese politics, and it is certain that this was at least part of the reason why Hariri resigned. He left the country before announcing his intentions – no surprise, given that Hezbollah is known to assassinate those that speak out against it. Hezbollah's control over parts of Lebanon has allowed it to introduce social programs that have resulted in considerable support from the Shia population. The social program collects taxes so that hospitals, social centres, schools, etc. can be built. It follows the Iranian model, but like the Iranian regime, Hezbollah has ulterior motives – to keep its followers close and to enforce its position in the country.
Furthermore, the Iranian Islamic Revolutionary Guard Corps (IRGC) has infiltrated the Hezbollah institutions and penetrated local society. Back in the eighties, an IRGC commander went to Lebanon to set up a militia to counter aggression from Israel. The result was Hezbollah. Iran has used the group on countless occasion to carry out terror activities against enemies.
Saad Hariri was Prime Minister of Lebanon from November 2009 to June 2011. He returned to the position in December 2016 and led a coalition that grouped most of the main parties in the country. He recently found out about a plot to assassinate him and he left Lebanon for a country that would protect him. Iran and Hezbollah have taken the opportunity to say that he was being held against his will in the Saudi capital.
In his live resignation speech, Saad spoke out against Hezbollah and condemned Iran for meddling in the affairs of numerous other nations and for spreading terror across the Middle East.
Iran has been bragging about its victories in Iraq and Syria, and it is clear that Lebanon is the next target. Its goal is still regional hegemony and Hezbollah is playing a big role in this quest. Iran is hoping to have Lebanon handed over to it, and there is fear from the international community that this might happen. For one, Iran's fighting force is more powerful than Lebanon's army.
Hariri left before the already broken country descended into further chaos and a potential civil war. He refused to be manipulated by Iran, although some believe he was. He kept Lebanon under some sort of control until Hezbollah was ready to take it over.