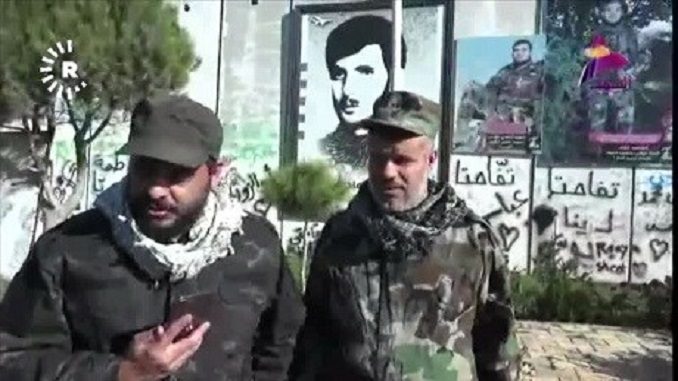 The leader of an influential Shiite militia group from Iraq has claimed to be on Lebanon's border with the Israel-controlled Golan Heights.Qais al-Khazali, head of the Iranian Quds Force-funded Asa'ib Ahl al-Haq, appeared in an undated video broadcast in Arabic media claiming to show the Iraqi visiting near the Golan Heights, which are on the Israel-Syria-Lebanon border and under Israeli control, Kurdish media network Rudaw reports.
"This is Golan. It is nearly 10 kilometers from here," someone tells Khazali in a Shami accent of Arabic.
Khazali can be seen in the video wearing a dark cap with military fatigues and a white scarf. The footage was published by Asa'ib Ahl al-Haq media. The group is a member of the Iranian-backed Shiite paramilitias which fought with Iranian-backed Hashd al-Shaabi in Iraq.
"This is Fatima Bawab on the border of Lebanon and the-invaded Palestine. We are completely prepared for unity with Lebanese nation and the question of Palestine against the invading, oppressive and anti-Islamic Israel," Khazali adds.
The video emerged just days after U.S. President Donald Trump announced, "I have determined that it is time to officially recognize Jerusalem as the capital of Israel."
Palestinian President Mahmoud Abbas condemned Trump's move as "a deliberate undermining of all efforts exerted to achieve peace and represent a declaration of the United States' withdrawal from undertaking the role it has played over the past decades in sponsoring the peace process."
Protests against the United States and Israel and in support of Palestine raged on Friday across the Islamic world.Some Iraqi clerics called for Arabs and Muslims not to be passive in the face of Trump's decision, some going so far as to say they were raising brigades to defend Jerusalem.
Khazali has previously called on U.S. soldiers to leave after the ISIS presence and called Kurdish leadership traitors to Iraq because of the clashes between Kurdish Peshmerga and Hashd al-Shaabi forces during Baghdad's takeover of Kirkuk, Tuz Khurmatu and other areas, claimed by both the Kurdistan Regional and Iraqi governments.
Another Iranian-sponsored Iraqi militia group fighting in Iraq and Syria, Harakat al-Nujaba, threatened to attack American troops in Iraq and the broader region in response to President Donald Trump's announcement yesterday about the recognition of Jerusalem as Israel's capital. Separately, Nujaba's spokesman, Sayyed Hashem al-Musawi, said:
"It is upon the Islamic community to respond to the targeting of their sanctities if this decision is implemented."
According to Iran's Fars News Agency, he described the U.S. plan to move its embassy to Jerusalem is a "hostile" act against Muslims, and added: "Nujaba calls on the Muslim world to take immediate action to stop Washington's acts of bullying against the Palestinians and the sacred al-Quds (Jerusalem)."
In addition, Hashim al-Moussawi, the spokesman of Asa'ib Ahl al-Haq, another Iranian-supported militia unit within Iraq's Popular Mobilization Forces (P.M.F.), said in a statement that the transfer of the U.S. embassy from Tel Aviv to Jerusalem is an "aggressive" action aimed at all of Islam.
Reacting to Trump's speech, A.A.H.'s leader Khazali called for armed struggle against America and Israel. "Trump's decision to designate Jerusalem the capital of the occupying Zionist entity marks the beginning of the end of the racist Israeli entity. We call on all the free and faithful to unite in a single front to confront arrogant (powers) & enemies of humanity," he wrote on Twitter.