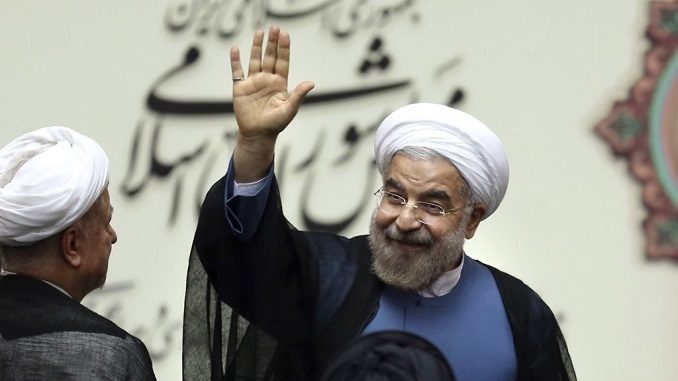 President Hassan Rouhani's surprising support for the Islamic Revolutionary Guard Corps (IRGC) has triggered negative responses on social media, Radio Farda reports.
On October 11, Rouhani described the IRGC as "beloved" by the people of Iran, Iraq, Syria, Lebanon, and Iraqi Kurds. During a cabinet meeting, Rouhani also insisted there's no dispute between Iranian factions over confronting enemy plots. The comments were made amid a possible plan by U.S. President Donald Trump to designate Iran's most powerful security force and economic player as a terrorist organization.
"If the United States wants to commit the next mistake and take action against the Revolutionary Guards, this is a mistake on top of another mistake; the IRGC is not just a military unit, but it has a place in the hearts of the Iranian people and has defended our national interests in times of threats to the country," Rouhani warned.
The unprecedented comments were followed by hundreds of questions raised on social media. A user, Ali Issmaeili, expressed his surprise against Rouhani's coquettish remarks.
"I was just watching the news. There was somebody sitting at the cabinet session who resembled Rouhani. Yet, he was n-o-t Rouhani for he was mumbling very weird things," he wrote.
Referring to May's presidential election, another user, B. Behnam also addressed Rouhani, rebuking him:
"You used IRGC as a tool for garnering more votes. Time and again, you shattered IRGC's dignity, right in front of the cameras, forcing people to believe that it was not popular even among government officials – Though, a show and fooling around, but, in the meantime it was also unwise."
Aq Bahman is another Twitter user who derided Rouhani for describing the IRGC as popular and beloved of many nations. "The IRGC is so much loved and close to the hearts of people that, day in, day out, you were busy sarcastically attacking it to collect more votes," he wrote.
Aqay-i Mim admonishes his readers for being simpletons, reminding, "You do not understand; Hassan [Rouhani] is telling the truth. If you launch any business or company, you will feel that IRGC is deep into your heart."
Dochar, another tweeter, was on the same wavelength as Aqay-i Mim, saying, "You are not deep enough into the society and, therefore, you cannot understand. IRGC, deep down in the society, is everybody's sweetheart. I, personally, am deep down there. I have even been several times drown there."
While the real reason behind Rouhani's surprising support for the IRGC is not yet clear, rumors have circulated on social media concerning a coup d'etat that may have taken place by the IRGC against Rouhani's government. An outspoken researcher, Abdollah Shahbazi is among those who have predicted major developments in coming days in Iran.
"There will be major events in Iran, before the weekend or probably in first days of the next week. They want to create a heavy shock and, if they could, trigger chaos and revolt," maintains Shahbazi on his Telegram channel.
Without referring to any specific political faction or formation, he suggested, "They are quite coordinated, inside and outside [Iran]. They are also coordinated with [Donald] Trump. Recent scandalous propaganda are also in line with the same scenario, and other events that have not yet occurred."
An active member of Iran's Hezbollah, Zahra Tabbakhi, also predicted unexpected developments, tweeting, "Mother of politics is pregnant like mother of autumn's sky. Be [prepared and] equipped in coming and going."