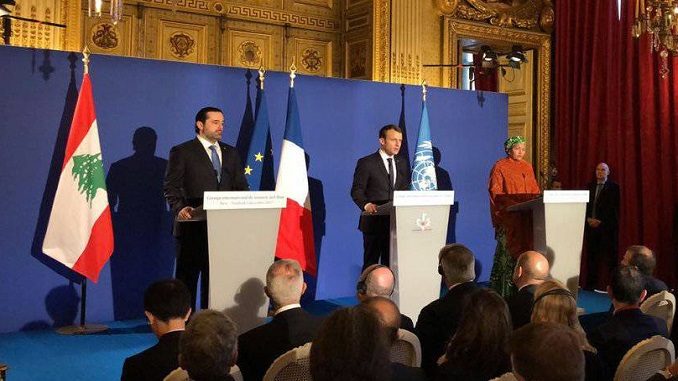 Major powers will try to shore up Lebanon's stability on Friday by pushing Saudi Arabia and Iran to stop interfering in its politics, and urging Hezbollah to rein in its regional activities, diplomats said as quoted by Reuters.
Lebanon plunged into crisis on November 4 when Saad al-Hariri resigned as prime minister while he was in Saudi Arabia, saying he feared assassination and criticizing the Saudis' regional arch-rival Iran along with its Lebanese ally Hezbollah. After international pressure and negotiations between Lebanese political factions, he rescinded his resignation on Tuesday and his coalition government, which includes Hezbollah, reaffirmed a state policy of staying out of conflicts in Arab states.
The International Lebanon Support Group (GIS), a body that includes the five members of the UN Security Council – Britain, China, France, Russia and the United States – meets in Paris on Friday to try to reinforce Hariri's hand to prevent a new escalation.
"At a moment of great international tension … we need to send the message of sovereignty, stability and security to all the Lebanese sides, its partners and those who have an influence in the country. We need to de-escalate the situation in the region and believe the effort needs to start with Lebanon because it's a country where all actors can compromise and through that show a path to negotiations elsewhere," said a senior French diplomat, whose country played a key role in helping Hariri return to Beirut.
French President Emmanuel Macron called on all foreign powers to stop interfering in Lebanese politics and urged all Lebanese sides to fully implement a pact to keep out of regional conflicts. Macron inaugurated on Friday the meeting of the International Support Group for Lebanon with Lebanese Prime Minister Saad el Hariri attending.
"For Lebanon to be protected from regional crises it's essential that all Lebanese parties and regional actors respect the principle of non-interference .The meeting today must show the will of international community to see the policy of regional disassociation put into place effectively by all in the country," Macron said at the opening of international meeting on Lebanon in Paris.
Saudi concern over the influence wielded by Shi'ite Muslim Iran and Hezbollah in other Arab states had been widely seen as the root cause of the crisis, which raised fears for Lebanon's economic and political stability.
The Lebanese policy of "dissociation" was declared in 2012 to keep the deeply divided state out of regional conflicts such as the civil war in neighboring Syria. Despite the policy, Hezbollah is heavily involved there, sending thousands of fighters to help Syrian President Bashar al-Assad.
"The keyword of the final declaration will be to support the disassociation policy," a second French diplomat said.
He said that while the diplomatic language for the final declaration would not single out any party, the message was that Saudi Arabia and Iran should not influence Lebanese politics and that Hezbollah should rein in its regional activities.
"Friday's meeting isn't anti-Saudi or anti-Iranian, it's pro-Lebanon," he said.
Highlighting the difficulties of upholding such a policy, Hezbollah backed calls on Thursday for a new Palestinian uprising in reaction to U.S. President Donald Trump's recognition of Jerusalem as Israel's capital. Those attending Friday's meeting are also set to back efforts to strengthen the Lebanese army and set up an investment conference for Lebanon once legislative elections take place.
"Work needs to be done to consolidate Lebanon's institutions starting with the army because for the disassociation policy to work Lebanon must be able to protect its own borders and not have a militia doing so," the second diplomat said.
Another meeting will be held in Rome in 2018 to gather aid for the Lebanese Army for rehabilitation and equipment. The ISG, formed in September 2013, brings together the United Nations, the governments of China, France, Germany, Italy, Russia, the United Kingdom and the United States, along with the European Union and the Arab League.
Designed to help mobilize support and assistance for Lebanon's stability, sovereignty and state institutions, it also specifically encourages assistance for the Army as well as Syrian refugees in Lebanon and host communities. It also provides assistance to government programs and public services impacted by the Syrian crisis.