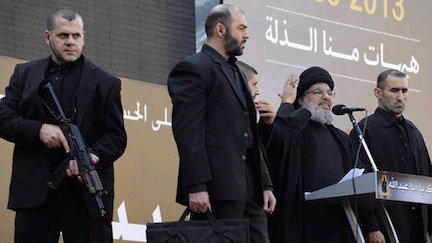 Secretary-General declares Israel and the GCC "will fall all together"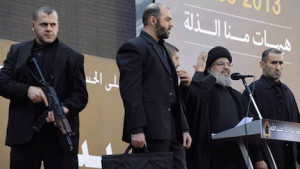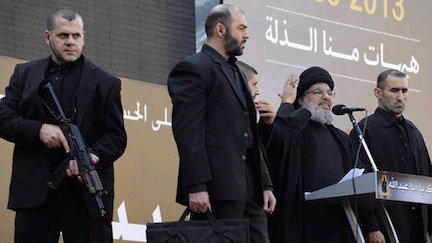 March 7, 2016: Although frequent reports have claimed that Hezbollah is fighting in Iraq and Yemen, in addition to Syria, on Sunday (March 6th), the secretary-general of the terrorist organization confirmed that in a speech commemorating the death of Ali Fayyad, a Hezbollah field commander killed in Syria in late February.
The Daily Star of Lebanon quoted Nasrallah saying in the televised speech, "After being asked to help in the fight against this globally renowned terrorist group, we took some fighters from south Lebanon, some from Syria and some from Yemen, and flew them to Iraq secretly." He confirmed that Hezbollah has been fighting in Iraq for the last 3 years.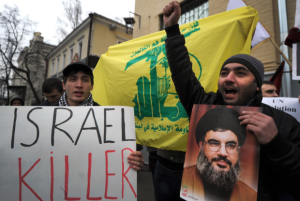 The long-serving and unopposed charismatic leader reiterated that any actions taken by Saudi Arabia or other Gulf countries would not cause the paramilitary group to change its policies and recall its forces from Syria and Iraq. He asserted Israel and the GCC countries are partners in trying to bring down the Shiite resistance movement and threatened that they will fall all together and expressed pride that Hezbollah is viewed as a source of frustration for the Saudis.
Nasrallah emphatically stated "… that the Israeli existence in the region can never be normalized despite all the attempts on the Zionist officials and some Arab leaders." He then harshly criticized Bahrain's policy of religious tolerance and diversity, stating "The Bahraini regime jails the Muslims clerics and receives a Zionist Rabbi to highlight its relations with Israel."