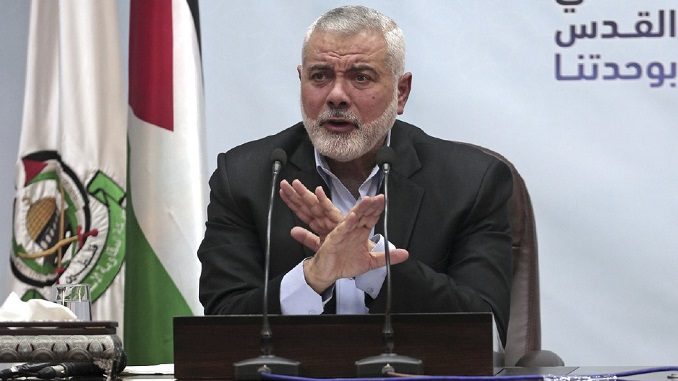 The Trump administration announced on Wednesday a slate of new sanctions on an Iranian-backed terror organization and its top allies in the Hamas movement, according to an announcement that is being viewed as part of an effort to disrupt the Islamic Republic's terror networks operating on the border of Israel, Washington Examiner reports.
The new sanctions by the Trump administration target a lethal Iranian-funded terror outfit based in the Gaza Strip and West Bank territories that has, at Iran's direction, targeted the Jewish state for terror attacks in recent years. The sanctions represent an effort to sever the ties between Iran and Hamas militants operating in the West Bank and Gaza Strip.
The Trump administration slapped new sanctions on Ismail Haniyeh, one of the Hamas movement's top political figures who has helped orchestrate and carry out terror attacks on Israel. It also identified the Palestinian organization Harakat al Sabireen as a terrorist group, along with two Egyptian-based groups: Liwa al-Thawra, and Harakat Sawa'd Misr.
The move will bar Haniyeh and the three groups from working with U.S. banks or individual Americans and freezes any of their assets held in the U.S.
"These designations target key terrorist groups and leaders – including two sponsored and directed by Iran – who are threatening the stability of the Middle East, undermining the peace process, and attacking our allies Egypt and Israel. Today's actions are an important step in denying them the resources they need to plan and carry out their terrorist activities," Tillerson said in a Wednesday statement.
The designations of Haniyeh and Harakat al Sabireen are particularly notable, as the State Department identified the Palestinian terrorists as a manifestation Iran's aggression in the region.
"Iran remains the world's leading state sponsor of terrorism. It continues to support a rogues gallery of terrorist groups, including Hezbollah, Hamas, Palestine Islamic Jihad, and others. Here are some numbers. Iran gives Hezbollah about $700 million a year. As for Palestinian terrorist groups, it gives them potentially up to $100 million annually," U.S. Ambassador-at-Large and Coordinator for Counterterrorism Nathan Sales said in Israel Wednesday.
Israeli Prime Minister Benjamin Netanyahu is particularly worried about the growing threat of rocket attacks from Hezbollah, in Lebanon, as well as Iranian entrenchment in Syria.
But Sales acknowledged that a similar threat is brewing in Gaza, where Hamas has "reportedly developed a new short-range rocket with a far larger explosive payload" than the rockets previously fired into Israel. He described Harakat al Sabireen as "an Iranian backed terrorist group" founded in 2014 that has already staged multiple rocket attacks against Israel.
"Our new approach marks a dramatic break from the past. We're no longer downplaying the threat of Iran-backed militancy. Nor are we so focused on Iran's nuclear program that we're willing to overlook the regime's many other malign activities. Countering Iran and its terrorist partners is a top priority for the Trump Administration. The Trump administration is addressing the totality of the threat Iran poses and applying pressure to bring about a change in Tehran's behavior," Sales said.
The latest round of sanctions target a little-known Iranian-backed terror cell known as Harakat al-Sabireen, which first made noticeable inroads in the Gaza strip in early 2016 with the backing of Hamas, the Washington Free Beacon first reported. Al-Sabireen, which was established in 2014, is believed to receive as much as $10 million a year from Iran via smuggling routes built underground by Palestinian terrorists to facilitate illicit trade beneath the Gaza Strip.
Like Hezbollah, the Iranian-funded terror group that controls territory along Israel's northern border, al-Sabireen is being used by the Islamic Republic to indirectly wage war on the Jewish state and foster unrest in the Palestinian territories. Al-Sabireen is led by a former head of the Palestinian Islamic Jihad (PIJ), which is designated as a terror organization by the United States.
The Iranian-funded outfit has "planned and executed terrorist attacks include firing rockets into Israel in September 2015 and detonating an explosive device targeting an Israeli army patrol in December 2015," according to information released by the State Department. Al-Sabireen also was found to be operating a now-defunct rocket factory in Gaza that provided missiles to militants seeking to target Israeli civilians.
Further evidence of the militant group's growing footprint in the Hamas-controlled territories was found after Palestinian security forces "arrested five Harakat al-Sabireen operatives who were working under Iranian orders and received funding in Gaza to carry out their attacks," according to the State Department.
Regional terror experts Jonathan Schanzer and Grant Rumley, both top figures at the Foundation for Defense of Democracies, a foreign-policy think-tank, viewed the new sanctions as part of a bid by the Trump administration to drive a wedge between Hamas and Iran.
"Wednesday's designation shows that despite Hamas' recent overtures towards Iran, the United States still considers the various Iranian-backed splinter groups in Gaza and the West Bank a threat. This is the right position," the experts wrote in an essay published in the Long War Journal.
Iran has looked to foster other actors in Gaza when frustrated with Hamas in the hopes of sparking a broader confrontation with Israel. In the West Bank, Iran and other actors have routinely tried to undermine the Palestinian Authority by creating and supporting rogue cells bent on harming Israel and destabilizing the Palestinian Authority government.