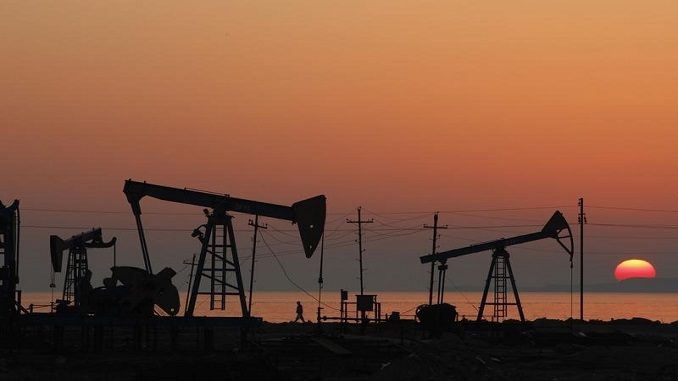 Oil prices posted their strongest opening to a year since 2014 on Tuesday, with crude rising to mid-2015 highs amid large anti-government rallies in Iran and ongoing supply cuts led by OPEC and Russia, Reuters reports.
U.S. West Texas Intermediate (WTI) crude futures CLc1 were at $60.63 a barrel at 0747 GMT, up 21 cents, or 0.4 percent, after hitting $60.74 earlier in the day, the highest since June 2015. Brent crude futures LCOc1, the international benchmark, were at $67.18 a barrel, up 31 cents, or 0.5 percent, after hitting a May 2015 high of $67.29 a barrel earlier in the day. It was the first time since January 2014 that the two crude oil benchmarks opened the year above $60 per barrel.
"Growing unrest in Iran set the table for a bullish start to 2018," the U.S.-based Schork Report said in a note to clients on Tuesday.
Protests in Iran are continuing, and the unrest is helping to keep oil prices underpinned on the day. Anti-government protesters demonstrated on Sunday in defiance of a warning by authorities of a crackdown, extending for a fourth day one of the most audacious challenges to the clerical leadership since pro-reform unrest in 2009.
Although having no effect on oil production and exports, for now, potential turmoil in a top five global oil producer will always be positive for prices. Crude should remain bid until things settle down. An upswing in the situation will have the effect of throwing fuel on the fire and bears monitoring by traders.
"Iran is one of the biggest Middle Eastern members of OPEC [Organisation of the Petroleum Exporting Countries] and the current turmoil in the country could potentially have a much larger impact on the oil price," said Naeem Aslam, the chief market analyst at Think Markets.
Prices were also supported by an OPEC -led agreement to reduce oil production by 1.8m barrels per day (bpd) until the end of 2018. The cuts made by OPEC and other producers including Russia last year helped bolster prices, with Brent crude rising 17 percent in 2017, according to Jasper Lawler, head of research at London Capital Group.
The surge in oil prices in the second half of 2017 will surely provide some relief to OPEC, but that doesn't mean they can be complacent with regards to the deal on production cuts. OPEC will meet in Vienna to discuss on said matters on 22 June.
Iran's oil and gas reserves are some of the largest in the world. According to the National Iranian Oil Company (NIOC), Iran has about 150 billion barrels of crude oil reserves and 33.5 trillion cubic meters of natural gas reserves. Iran has the third largest oil reserves in OPEC (behind Venezuela and Saudi Arabia) and the fourth largest in the world (behind Canada).
Its conventional natural gas reserves are the largest in the world. Iran used to produce upwards of 5 million barrels per day of oil before the Iranian revolution in 1979. During the 1990s and early 2000s, it produced between 3.5 and 4.5 million barrels per day.
The removal of sanctions against Iran stimulated oil production in that country. This came as a result of its nuclear deal with western industrialized countries, which has been repeatedly condemned by U.S. president Donald Trump.
Keep in mind that rising Iranian oil production isn't in the best economic interest of oil producers in other countries, including its arch rivals Saudi Arabia and the United States. But today's production numbers in Iran are still well below the all-time peak of 6.7 million barrels per day achieved in November 1976 under the Shah of Iran. So Iran has the potential to steadily increase production, which could affect world prices.
Production increases in Iran have the potential to stabilize prices and halt the steady increases of 2017 from being repeated in future years. This is not going to warm the heart of Russian president Vladimir Putin, who needs more cash to run his government, particularly in an election year. In fact, the World Bank revealed that oil and gas revenues would account for 37.7 percent of total Russian government income in 2017.
Increasing Iranian oil production is also not the best news for other world oil producers. So if a revolution in Iran sets back oil production in that country, you can see who's going to be happy about that development.
Elsewhere, gasoline futures were up 0.16% at $1.789 a gallon, while natural gas futures surged 2.10% to $3.015 per million British thermal units. Oil ended 2017 on a positive note, as falling inventories globally and strong economic growth offset the restart of the Forties pipeline and the resumption of production following a pipeline outage in Libya. Crude Inventories fell again last week in the United States, supporting WTI in particular, although it should be noted that holiday period volumes were much below the usual we would expect.
One cautionary note to sound after last week's sprightly price action is that the Relative Strength Index's (RSI) on both Brent and WTI crudes are now a breath away from very overbought levels. The RSI has been an excellent indicator of short-term corrections in 2017 so some caution at these levels on both contracts should be exercised. Technicals aside though, Oil has enjoyed an impressive Asian session with bothy contracts marching higher by 80 cents.
Even without the unrest in Iran, which is a major oil exporter, market sentiment was bullish.
"Falling inventories globally and strong economic growth offset the restart of the Forties pipeline and the resumption of production following a pipeline outage in Libya," said Jeffrey Halley, a senior market analyst at futures brokerage Oanda in Singapore.