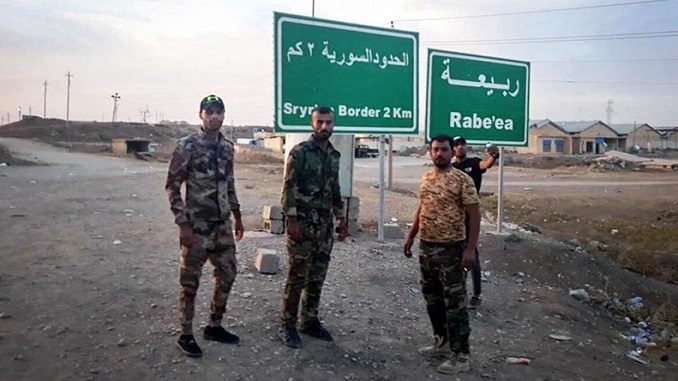 A Shi'ite paramilitary force Harakat Hezbollah al-Nujaba, pledged to Hezbollah, has been deployed to Iraq's border with Syria at Rabia after Iraqi forces took the area from the Peshmerga last week.
According to Kurdish media network Rudaw quoting the statement from the group's spokesperson Hashim al-Musawi, the forces of Nujaba were sent to Rabia to "prevent the destruction of villages and the displacement of people.
Nujaba, made up of Iraqis, is known to have close ties to Iran and Lebanese Hezbollah and has been active in both Iraq and Syria. Iran's Tasnim News reported that it was the group's "specialized forces" that had been deployed. Tasnim has strong ties to Iran's Revolutionary Guards.
One of the most important militias in Iraq, Nujaba is a key force working to establish a so-called Shi'ite Crescent, connecting Tehran with Damascus, according to a Reuters report. Hezbollah refers to the route as its "Axis of Resistance."
"The blood of Hezbollah which flowed in the land of Iraq is our responsibility for so long as we exist. Sayyed Hassan Nasrallah [Hezbollah's Secretary General] will remain as the fear that plagues the hearts of the Princes of Petrol [Gulf countries] and the Zionists [Israel], wherever they may go. Hezbollah and the Nujaba' movement are the twins of resistance that cannot ever be loosened or separated," Musawi said in March, as reported by The Long War Journal.
The group has effusively praised Iranian Quds commander Qassem Soleimani, who is a military advisor to the Shi'ite forces in Iraq under the Hashd al-Shaabi umbrella. The Kurdistan Region Security Council warned on Monday that Iraqi and Shi'ite forces were building up on Kurdistan Region's borders.
"Iraq has shown zero signs of de-escalating their military aggression against the people of Kurdistan Region," the security council stated, calling on the deployment of troops to stop.
Iraqi forces were concentrating near Kurdistan Region's oil pipeline and land borders with Turkey and Syria, Reuters reported citing security sources. Baghdad has demanded the Kurdistan Region cede control of all border points to the central government as part of its efforts to exert federal control throughout the country. Iraq also wants to repair and re-open its oil pipeline to Turkey.
U.S. Secretary of State Rex Tillerson on Sunday called for "Iranian militias" to leave Iraq, but Baghdad hit back, saying that the forces in Iraq were fully Iraqi and "nobody has the right to interfere in Iraqi affairs."