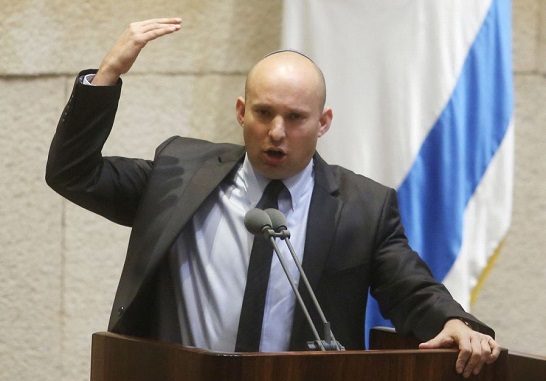 Israel must ask the international community to stop Iran's nuclearization but prepare to do the task on its own in case the world fails, Bayit Yehudi leader Naftali Bennett said in an interview with The Jerusalem Post on Sunday.
Bennett, who is a member of Prime Minister Benjamin Netanyahu's security cabinet, spoke before a meeting of the forum, in which the prime minister reported about his meetings with U.S. President Donald Trump and other world leaders and his progress on the Iranian issue. The meeting was held a day after Iran tested a ballistic missile capable of reaching Israel.
"On the one hand, we need to persuade the U.S. to apply paralyzing sanctions of the highest level as soon as possible. Iran must be forced to choose between the nuclear path and a prosperous economy. At the same time, Israel must prepare for the possibility that the U.S. and the world won't be convinced by getting ready to defend ourselves by ourselves," Bennett said.
Bennett said that Israel must act on both tracks as if the other did not exist. On the sanctions track, he suggested removing Iran from the world-wide Swift banking system, which was done before at the peak of international sanctions on the Islamic Republic. He said companies around the world would then have to choose between doing business with Iran or the U.S.
Israel must act under the assumption that the international community will not provide successful solutions to stop Iran's nuclearization, Bennett said but he did not elaborate on what Israel should do to prepare itself militarily, preferring to leave such advice to closed forums like the security cabinet.
Regarding Iranian moves into Syria, Bennett said Israel would not tolerate Iran building a corridor from Tehran to Israel's borders and the Mediterranean Sea. He said that development would change the balance of power and endanger Israel.
"We won't allow that to happen, and we will speak by actions, not by words," he said. "The only thing that works in the Middle East is action."
Transportation and Intelligence Minister Israel Katz, who is also a member of the security cabinet, said there was now a "historic opportunity" to "remove the Iranian threat from Israel."
In addition, Israel needs to work with the U.S. to thwart Iran's missile program, prevent an Iranian military presence in Syria, stop Iranian assistance to Hezbollah and get America to formally recognize Israeli sovereignty over the Golan Heights, Katz said.