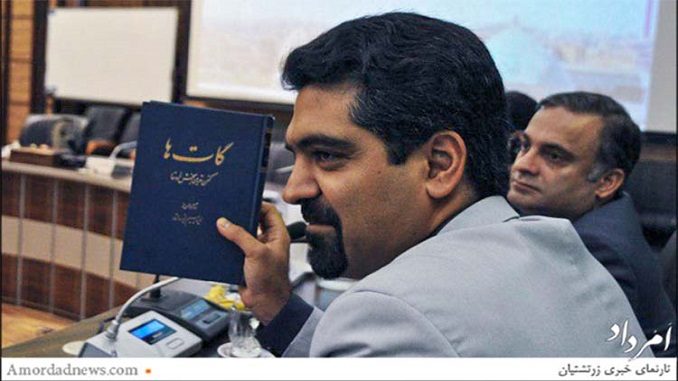 As the Iranian government insisted that it protects religious minority rights before the UN General Assembly on Wednesday, two Iranian officials appeared on state television to defend the decision of a court to suspend a Zoroastrian member of the Yazd City Council because of his religion, Human Rights Watch reports.
Residents of Yazd, a city in central Iran, re-elected Zoroastrian Sepanta Niknam in May. This happened despite the attempt by the Guardian Council, one of Iran's most influential bodies, to bar non-Muslims from running for city and village council in areas with a majority Muslim population.
It's the council's position that Niknam should be fired.
A month before Iran's 2017 elections for local councils and president, Ahmad Jannati, the ultra-conservative chairman of the Guardian Council—the clerical body that vets elections for conformity with Islamic principles— declared that religious minorities could not stand as candidates in Muslim-majority constituencies.
But Iran's parliament, not the Guardian Council, is legally empowered to vet city and village council candidates. And parliament insists that Iranian law allows candidates from recognized religious minorities to run as candidates as they, "believe in and demonstrate their commitment to their own religious principles in practice."
On October 18, 2017, Parliament Speaker Ali Larijani restated that removing Sepanta Niknam from his elected seat because he isn't Muslim is illegal.
"If this matter is not resolved, we have no choice but to refer it to the Expediency Discernment Council for a final resolution," said Larijani in a meeting with a group of city councilors.
Yazd is home to some of the world's most revered Zoroastrian religious sites. Followers of the ancient pre-Islamic faith have lived in the region for thousands of years. Recognized in the Constitution, the Zoroastrian population in Iran had dwindled to about 25,000 as of 2011, according to a national census.
Niknam was suspended by the Court of Administrative Justice on October 8, after a candidate who ran against him unsuccessfully in the election reportedly filed a complaint.
Only a few religious minorities, including Zoroastrians, are recognized in the constitution. And even the recognized religious minorities have long been discriminated against in Iran. But this is a new low.
Article 26 of the Law on the Formation, Duties and Election of National Islamic Councils allows candidates from any of the religions recognized in Articles 12 and 13 of the Constitution: Islam, Judaism, Christianity and Zoroastrianism.
Niknam, a 32-year-old economist who leads Yazd's Zoroastrian Association, was first elected to the 11-member city council in 2013 and won again four years later with more votes. He mentioned his faith during both election campaigns. Following the suspension order, the Yazd City Council met on September 21, 2017, and re-certified Niknam's membership. His fate is now in the hands of the Supreme Administrative Court in Tehran.
According to reformist columnist Masoumeh Asghari, Niknam's candidacy should have never been disputed.
"The officials don't care whether someone is Muslim or not. What people care about is whether someone is with them or not. What matters is that Sepanta Niknam has been decisively elected by both Zoroastrian and non-Zoroastrian citizens of Yazd. He is their representative," she wrote in the reformist Sharg Newspaper.
However, Rouhani, who legally oversees the implementation of the constitution, is yet to react to the most recent pushback.
This is a test for all Iranian officials to protect rights. The Guardian Council's attempt to suspend Niknam does not just violate his rights, it also denies the people who voted for him – Zoroastrian and Muslim – from choosing their political representatives.
"Iranian officials should act now to protect Iran's own fragile constitution and peoples' democratic participation," HRW says.