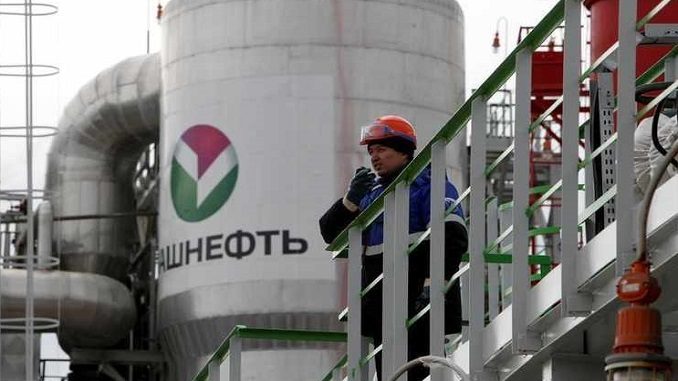 Russia and Iran have signed agreements to collaborate on "strategic" energy deals worth up to $30bn that will involve energy groups such as Rosneft and Gazprom, Financial Times reports.
After years of sanctions, the government of Hassan Rouhani has sought to attract foreign companies to develop Iran's energy sector. The latest announcements come as Russia is building up its energy assets in the Middle East, as part of a wider diplomatic push to increase its economic and military clout in the region.
Igor Sechin, chief executive of Russia's state-controlled Rosneft, said its pact with the National Iranian Oil Company would be the first step before a "binding" deal to participate in Iran's oil and gas projects over the next few years.
"According to preliminary calculations, the overall amount of investments in the projects will total up to $30bn. When completed, the production plateau will reach 55m tonnes of oil per year," Sechin told journalists.
Iran is particularly keen to strike deals with western players such Royal Dutch Shell to prove that the U.S.'s hostility toward Iran has not scared off foreign investment. However, oil experts say that, should the U.S. re-impose crippling sanctions on Iran by the end of this year, Russian and Chinese firms could benefit from the lack of competition from western companies.
Amir Hossein Zamaninia, Iran's deputy oil minister for international affairs, said six provisional deals had been signed with Russian oil companies as part of a visit by President Vladimir Putin to Tehran on Wednesday. Zamaninia said the two countries agreed to "strategic co-operation in the energy sector", ranging from development of Iran's oil and gas fields to collaboration on research.
Moscow has forged a close relationship with Saudi Arabia, Iran's arch rival in the region, and has leveraged a supply curbs deal with OPEC to strengthen ties with the kingdom in the energy and military sectors. Rosneft has also become a major financial supporter of Kurdistan, by acquiring a majority stake in the main oil pipeline in the northern Iraqi autonomous region.
Iran needs $200bn of investments for upstream and downstream projects by 2021. Since Iran struck a nuclear deal with major powers in 2015, enabling many sanctions to be lifted, it has only signed one notable contract — a deal with France's Total in July worth $4.8bn.
Sechin, a close associate of President Putin whose international ventures often dovetail with Kremlin foreign policy, said co-operation with Iran included "carrying out swap operations, supplying oil and oil products, training staff and modernising oil refining".
Russia and Iran have long been working on oil-for-goods deals worth up to $20bn, since cash-strapped Iran has been under western sanctions over its nuclear programme. Under these agreements Moscow would buy Iranian oil in exchange for Russian equipment and technology.