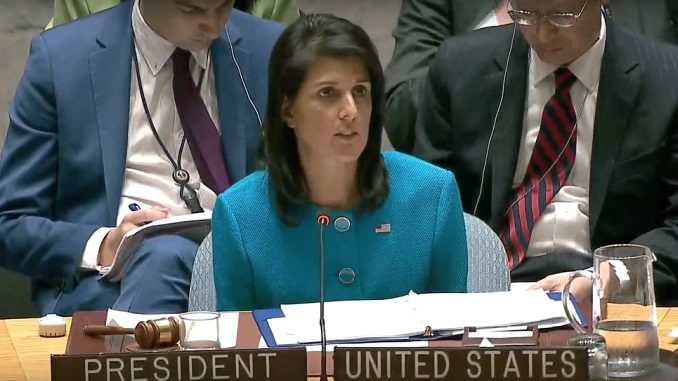 The U.S. ambassador to the United Nations, Nikki Haley, on September 28 accused Russia for trying to "shield Iran" from inspections by the UN's nuclear watchdog into activities that could contribute to developing a nuclear bomb, RFERL reports.
Haley has been pushing to increase and broaden the inspections conducted by the International Atomic Energy Agency (IAEA), which is charged with monitoring compliance with restrictions on nuclear activities that Tehran agreed to in exchange for sanctions relief under the 2015 nuclear deal.
"If the Iran nuclear deal is to have any meaning, the parties must have a common understanding of its terms. Iranian officials have already said they will refuse to allow inspections at military sites, even though the IAEA says there must be no distinction between military and non-military sites. Now it appears that some countries are attempting to shield Iran from even more inspections. Without inspections, the Iran deal is an empty promise," Haley said.
Although she named no countries, diplomatic sources said she was referring to Russia. But while Haley has been urging the watchdog to broaden its inspections in Iran, UN diplomats say Russia has been trying to diminish the agency's role by arguing it has no authority to police one critical section of the deal.
That section, known as section T, bans "activities which could contribute to the development of a nuclear explosive device." It lists examples such as using computer models that simulate a nuclear bomb, or designing multi-point, explosive detonation systems. Unlike many other parts of the deal, section T makes no mention of the IAEA and does not specify how compliance with the section will be verified. UN diplomats said Russia is arguing that means the IAEA has no authority to monitor compliance with the section by conducting inspections. Russia is one of the six world powers that signed the deal with Iran.
The United States and its Western allies Britain, France, and Germany, which also signed the deal, disagree with Russia's interpretation. The matter is particularly important to the United States right now because U.S. President Donald Trump faces a mid-October deadline for deciding whether to certify that Iran is in compliance with the deal. Haley has said his certification is in doubt unless the IAEA is able to conduct broader and more vigorous inspections of Iran's sites and activities. Iran and Russia have not commented publicly on the matter.
Ten days ago, the head of the Iranian nuclear program, Ali Akbar Salehi, accused Washington of sabotaging the agreement and called on IAEA to resist Washington's "unacceptable demands." He took particular aim at Haley, who he said had made unjustifiable demands regarding the verification of the nuclear accord. Those demands included IAEA inspections of Iranian military sites.