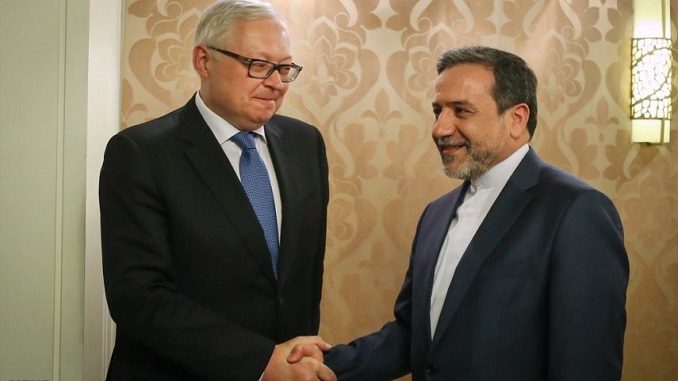 Russian Deputy Foreign Minister Sergei Ryabkov will meet Iranian Deputy Foreign Minister Abbas Araqchi in Moscow this week to discuss the situation around the Iran nuclear deal following U.S. President Donald Trump's threat to abandon the multinational accord if is not amended, Reuters reports quoting the Interfax news agency.
"Certainly, the focus is on the situation around the Joint Comprehensive Plan of Action (JCPOA) in light of Trump's statement about his intentions to review the agreement's contents and signals that the United States is inclined to supplement, alter, or modify this document in a [way] that suits Washington," he said.
Ryabkov also said that Moscow and Tehran will work out a "common approach" in order to try to "persuade the American side that the proposed measures are not productive."
The planned talks between Ryabkov and Araqchi comes before Rohani is expected to host Russian President Vladimir Putin and Azerbaijani President Ilham Aliyev in Tehran on Nov. 1.
Under the JCPOA – the July 2015 deal between Iran and six world powers, including the United States and Russia – Tehran agreed to curtail its nuclear activities in exchange for relief from sanctions that have hurt its economy.
But in an October 13 speech, Trump said he would not certify that Iran is complying with the agreement and warned he might ultimately terminate it. He accused Tehran of violating the "spirit" of the agreement, in part for its continued testing of ballistic missiles and its support for extremists in the Middle East, and said he would ask Congress to strengthen a U.S. law to put additional pressure on Iran. The U.S. president on Oct. 16 raised the possibility once again that he might try to end the deal completely.
"It might be total termination. That's a real possibility. Some would say that's a greater possibility," Trump told reporters ahead of a cabinet meeting.
Meeting in Luxembourg on Oct. 16, European Union foreign ministers closed ranks in support of the Iran nuclear agreement, warning that Trump's threats jeopardize efforts to find a peaceful solution to the nuclear standoff with North Korea.
"At a time of acute nuclear threat, the EU is determined to preserve the JCPOA as a key pillar of the international nonproliferation architecture," the ministers said in a joint statement.
The bloc's foreign policy chief, Federica Mogherini, said she would visit Washington early next month to urge U.S. lawmakers not to pull out of the Iran deal, which was aimed to slow Iran's potential path toward creating a nuclear weapon. Tehran says its nuclear program has purely peaceful aims.
Meanwhile, U.S. Senate Foreign Relations Committee Chairman Bob Corker, who is leading efforts on behalf of Trump to toughen the Iran nuclear deal in Congress, urged Trump to cooperate with European allies in deciding what to do with the nuclear agreement.
"This is something that can only work if the administration exercises tremendous diplomacy with our European allies," Corker said, adding that Democrats in Congress are insisting that the White House must work with Europe.
Corker told reporters that he has tried to convince Europeans that Trump's decision to decertify Iran is not all bad and provides world powers with an opportunity to try to correct acknowledged "deficiencies" in the pact.
"Look, if I were them, I'd look at this as 'the glass is half full.' He didn't withdraw from the JCPOA, and that's step one," Corker said.