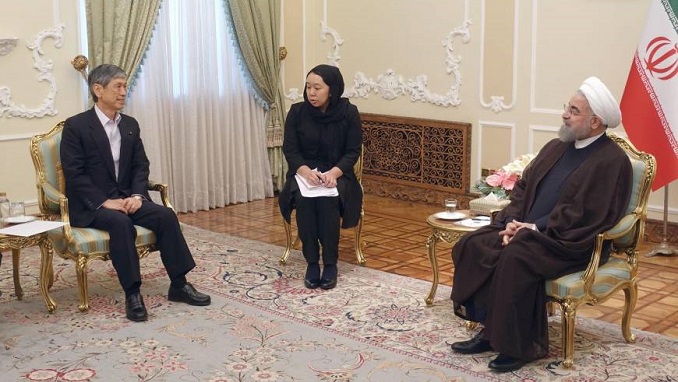 A special envoy of Prime Minister Shinzo Abe on Wednesday called on Iranian President Hassan Rouhani to cooperate in putting more pressure on North Korea following Pyongyang's sixth nuclear test earlier this month, The Japan Times reports.
But the Iranian president, whose country has long had amicable relations with North Korea, told Masahiko Komura that dialogue is needed, indicating Tehran is eager to seek a different approach than Japan.
It is not known what kind of approach Regime's president is thinking of, as the country is similarly testing new long-range ballistic missiles and is said to be headed on North Korea's path, as another global threat.
During their meeting, Komura, who is the vice president of Abe's ruling Liberal Democratic Party and a former foreign minister, said the international community must be united in putting pressure on Pyongyang. Rouhani responded solely by saying that threats will not help solve issues related to North Korea, which continues to pursue nuclear and ballistic missile programs in defiance of the U.N. Security Council resolutions.
The president, however, told Komura that Iran is trying to do what it can, and hopes the North doesn't become a nuclear power. Komura also urged regime's President Rouhani to continue implementing a 2015 deal reached by Iran and six major powers, including the United States, under which Tehran agreed to curb its nuclear development in exchange for the lifting of sanctions.
Rouhani pledged not to break the agreement unilaterally. However, the country is constantly breaching the accord as it continues efforts to pursue its nuclear programs while denying it. The regime violated several segments of the agreement and U.S. president also stated that there has been a breach and that fresh new sanctions should be imposed on the country. Komura delivered to Rouhani a letter from Abe in which the prime minister expresses his willingness to visit Iran at an appropriate timing.
Later in the day, Komura also met with Iran's Foreign Minister Mohammad Javad Zarif. Zarif told Komura he has asked North Korea to move forward peacefully, as Iran has opposed Pyongyang's nuclear development. But Zarif did not disclose when these discussions with North Korea took place.