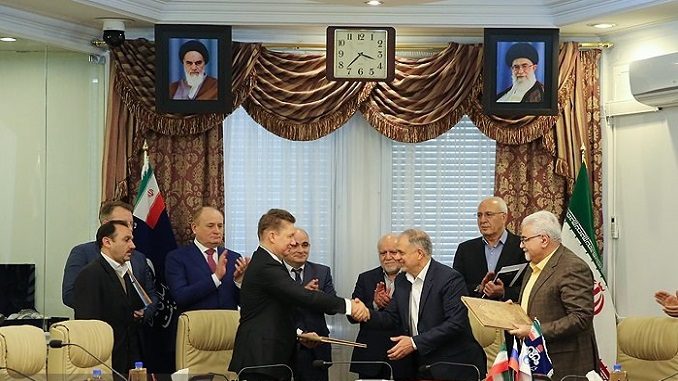 Russia's energy giant Gazprom signed a memorandum of understanding with the National Iranian Oil Company to cooperate in the Iran LNG project which is estimated to cost $4 billion. Gazprom CEO Alexey Miller and NIOC Managing Director Ali Kardor signed the agreement in Tehran on Wednesday, Mehr News reports.
The news outlet quoted the Russian company saying the memorandum was signed with Iranian Oil Industry Pension, Saving and Staff Welfare Fund.
Iran LNG is designed to have two lines of 5.25 million tons of annual capacity, each with a view of eventually increasing total production to 21 million tons per year. Its key shareholders are National Iranian Oil Company as well as Oil Industry Pension, Saving and Staff Welfare Fund. Gazprom has a number of gas memorandums with Iran.
Production of LNG requires a technology heavily patented by American companies. That technology cannot thus be provided to the Islamic Republic due to sanctions by the U.S. against the country.
Foreign companies are also banned from developing any LNG project on Iran's soil due to the same sanctions.  The country had previously devised three liquefaction projects – Pars LNG, Persian LNG and NIOC/Iran LNG – but had to shelve them after investors – Total and Shell – refused to push them forward as a result of sanctions.
The company's only operational LNG project is Sakhalin II which has an annual capacity of 9.6 million tons and was built in 2009 in cooperation with Shell. A second key liquefaction project is Baltic LNG which the Russian company is planning to develop – again with the help of Shell. The technicalities through which Gazprom would cooperate with Iran over production of LNG without falling afoul of U.S. sanctions are not known.
Gazprom further said in its statement that it has signed another basic agreement with Industrial Development & Renovation Organization of Iran (IDRO) over the past few days over joint gas liquefaction projects in third countries. The agreement also envisages projects in the field of advanced gas processing and petrochemistry in the territory of Iran, it added.
Gazprom's agreement with IDRO could be a copy of the same scheme in what could be a new strategy by the Islamic Republic to launch liquefaction projects in offshore facilities.  An earlier instance of such strategy became visible when Iran said an LNG project would be launched on a ship in Persian Gulf waters. The project has been awarded to Norway's Hemla Vantage energy giant which would install the plant on a vessel close to Kharg Island.  It would become operational over the next two years.
Iran has for long been discussing with Oman to produce LNG in its Qalhat liquefaction plant. The project involves piping gas from southern Iran to the Persian Gulf sultanate and liquefying it into LNG for shipments to international markets.
Iranian Oil Minister Bijan Namdar Zanganeh highlighted the far-reaching effects of cooperation with Russia in the gas industry, saying the two countries can determine the international market situation by holding the world's largest gas reserves.
"The cooperation between Iran and Russia, ranked first and second in the list of countries by gas reserves, would have decisive influence on the world market," Zanganeh told reporters in Tehran on Wednesday.
His comments came after the National Iranian Oil Company and Russia's Gazprom signed two memoranda of understanding on cooperation in projects in Iran.