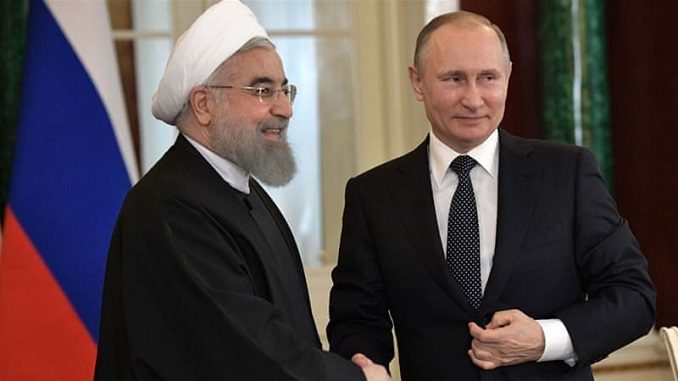 Russian President Vladimir Putin will meet with Iran's top leaders as Moscow voices increasing criticism of U.S. President Donald Trump's move away from the nuclear agreement with the Islamic Republic, Bloomberg reports. Putin travels to Tehran on Wednesday for talks with Iranian President Hassan Rouhani and Supreme Leader Ali Khamenei that will focus on the nuclear issue and their cooperation in Syria, as well as economic ties.
Russia and Iran back President Bashar al-Assad's government in Syria's war, while the United States and Turkey back differing rebel groups. A statement on the Russian Foreign Ministry's website on October 31 listed 33 Syrian organizations invited to a "Congress of Syrian National Dialogue" in the Russian city of Sochi on November 18.
Russia and Iran also plan to discuss cooperation in the energy sphere. Russian Energy Minister Alexander Novak is due to meet with Iranian Finance Minister Masoud Karbasian in Tehran, followed by talks with Iranian Oil Minister Bijan Namdar Zanganeh. Putin will also take part in a three-way summit between Russia, Iran and neighboring Azerbaijan. It will be the second meeting in such a format. The first meeting was initiated by Azeri President Ilham Aliyev last year.
The main objective on the Wednesday visit of Russia's Putin and Azerbaijan's Aliyev to Tehran is to follow up talks on the International North–South Transport Corridor (INSTC). Putin, Rouhani and Aliyev are also due to discuss plans for establishing a railway line between Iran, Azerbaijan and Russia that could be used to move freight from Asia to Europe. The project would aim to grab a share of cargo now being shipped through the Suez Canal.
Aliyev opened a similar rail project on Monday that links the Azeri capital, Baku, to Turkey via Georgia, offering a transport corridor to move goods between China and Europe through central Asia, in competition with existing routes through Russia and Iran.
Iranian Foreign Minister Javad Zarif said the upcoming trilateral meeting in Tehran between Iran, Azerbaijan and Russia will provide grounds for regional cooperation to boost economic development, peace and stability in the region.
"Regional cooperation is very useful for the economic development of countries and peace and stability in the region," Zarif told IRNA on Tuesday.
Zarif noted that the three countries have common interests, most importantly in transit and energy and also emphasized that the meeting between the three presidents would be an opportunity to discuss regional issues, particularly the latest developments in Syria.
The Iranian top diplomat went on to say that Iran is currently working with five Caspian Sea littoral states which include Turkmenistan, Uzbekistan, Kazakhstan, Armenia and Georgia. Regional cooperation is highly important in terms of national security and economic development.