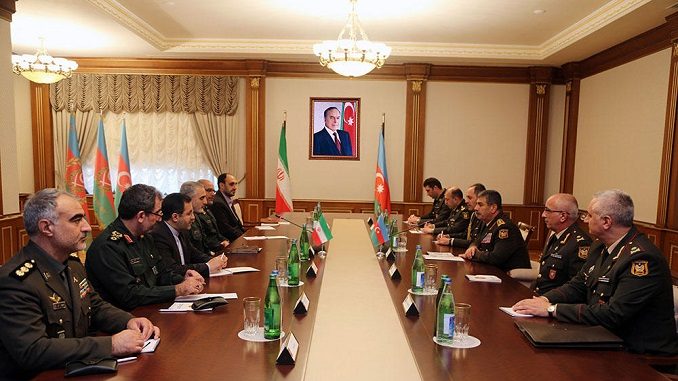 Iran and Azerbaijan have held the first meeting of a military cooperation working group, signaling growing defense ties between the two wary neighbors, Euroasianet reports.
On October 24 and 25 Baku hosted the first meeting of the Azerbaijani and Iranian Joint Working Group on Military Cooperation, led by Azerbaijani Defense Minister Zakir Hasanov and Iranian Deputy Minister of Defense Hojatollah Ghoreishi.
This working group was established back in 2015, during a visit by Iranian Defense Minister Hussein Dehgan to Baku. Since then, military-to-military contacts have increased. But the two-year delay in holding the first meeting raised questions about how serious Iran and Azerbaijan are about genuine cooperation, particularly considering Azerbaijan's close military relationship with Israel, Tehran's main foe. The question of potential arms purchases from Iran has been especially closely watched. Azerbaijan's president Ilham Aliyev, during a 2016 meeting to Germany, said:
"It is no secret that we buy weapons from Turkey, Israel, Belarus, Iran and many other countries, which helps to modernize our army."
The mention of Iran was new, but the statement was not picked up by any state media and no details were further disclosed. Shortly following last year's "April War" with Armenia over Nagorno Karabakh, retired Lieutenant General Yashar Aydemirov said that Azerbaijan used Iranian weapons during that conflict. But the weapons he identified, including howitzers and multiple launch rocket systems, are of Russian origin, produced in Iran and offered for export by Iran's Armament Industries Group – which is on the Western sanctions list.
Aydemirov's statement was received skeptically, given that Azerbaijan could easily buy those weapons from Russia without breaking the sanctions. In any case, these weapons are relatively outdated, and do not provide any significant advantage for Azerbaijan's military arsenal. That's especially true compared to the contributions Israeli weaponry, particularly drones, as well as Turkish howitzers and multiple launch rocket systems have made to Azerbaijan's armed forces.
For Azerbaijan, the most attractive Iran military product would be ballistic missiles, which Baku has sought since September 2016, when it emerged that Armenia had acquired advanced Russian Iskander-M missiles.
For Iran, meanwhile, selling weapons to Azerbaijan carries a significant security risk, given the possibility that Azerbaijan could share the technology with Israel. Also, Iran is not inclined to favor either Azerbaijan and Armenia and thus far it has not sold any conventional weapons to either state. More than arms trade, Azerbaijan-Iran military cooperation focuses on deescalating potential tensions, as the two countries have had occasional violations both on their land and sea borders, including illegal border crossings, which sometimes lead to armed skirmishes.