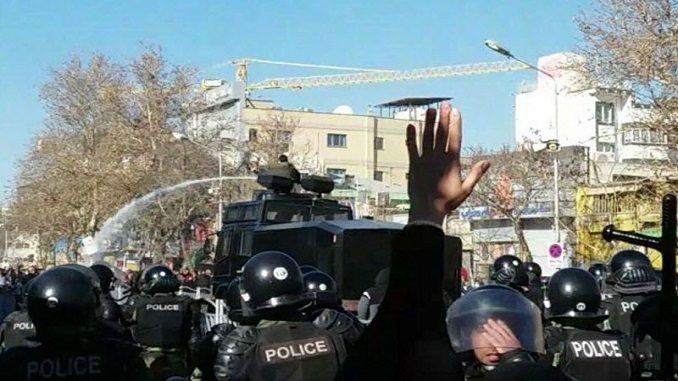 Residents in the Iranian city of Mashhad took to the streets on Thursday demonstrating against unemployment and poverty, Al Arabiya reports.
Protesters raised the slogans "Death to Rouhani, and Death to the Dictator". Usually, the term "dictator" is addressed to Iran's Supreme Leader, Ali Khamenei. Protesters also waved banners denouncing Iran's interference in the Arab region.
Mashhad is the second most populous city in Iran and capital of Razavi Khorasan Province. It is located in the northeast of the country, bordering with Turkmenistan and Afghanistan. The residents of Mashhad were protesting against the rising cost of living.
The demonstrators also chanted "Forget about Syria, think about us", "Don't be scared, we are all together." In Mashhad, repressive state security forces attacked protesters. Similar protests were held in cities of Neyshabur and Shahroud.
Earlier this week, demonstrations broke out in Isfahan, central Iran, in protest against the unemployment crisis. Officials in Isfahan warned of the worsening unemployment crisis, with statistics indicating that more than 27,000 people were fired from their jobs because of firms went bankrupt over the past nine months.
Robabeh Rezaii, Reza Shahabi's wife, was arrested December 26, 2017, along with more than 20 civil and labor activists and students during a protest rally held in front of the Ministry of Labor. Robabeh Rezaii had previously issued a call for this rally protesting the condition of her husband, Reza Shahabi who recently survived a second stroke in prison.
In the gathering in front of the Ministry of Labor, Robabeh Rezaii was accompanied by drivers of the Bus Company, students, and a number of labor activists. Some of the detainees are identified as Ehsan Mohammadi, Yashar Daroshafa, Amir Hossein Mohammadi Fard, Pouria Jani Puor, Siavosh Amjadi, Mehdi Toutounchi, Mohammad Shabahati, Reyhaneh Ansari and Romina Mohseni.
Imprisoned trade unionist Reza Shahabi, has been denied medical access in a hospital outside the prison, despite suffering a second stroke, according to a statement by the Union of Workers of the Tehran and Suburbs Bus Company (UWTSBC) published on December 14, 2017.
Reza Shahabi, was arrested in 2010 and sentenced to six years in prison. He went on furlough for medical treatment and surgery after four years of imprisonment. However, upon termination of his prison term, Iran's judiciary announced that five months of his leave was a non-stay and considered as "absence" and he must go back to prison.