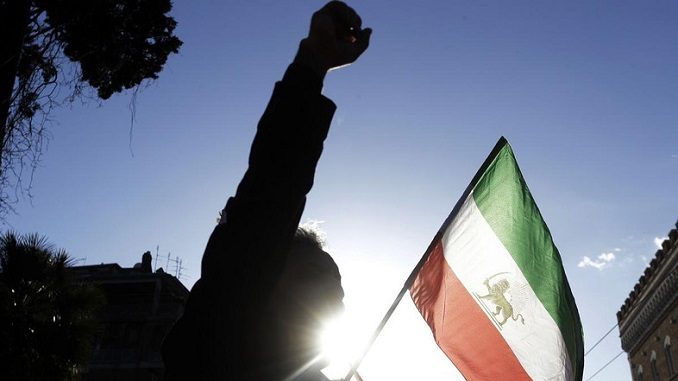 An Iranian member of parliament revealed that the Islamic Revolutionary Court sentenced a 15-year-old boy to five years of jail after being accused of dragging down an Iranian flag during the wave of protests against the regime, Radio Farda reports.
The head of Iran's judiciary committee, Mohammad Kazemi, told the online news site Etemaad that he spoke to the boy during his visit to the prison in the city of Hamadan in the center of Iran. He said that the flag was pulled down in Malayer Square during the recent turmoil.
Kazemi added that the teenager received the sentence in a lower court and has appealed.
The Iranian regime had arrested several high school students during the recent protests. Earlier, several Iranian officials had spoken of school students being arrested during widespread protests that rocked Iran in late December, early January.  The Assistant Minister of Interior for Security Affairs, Hussein Zulfiqari, said that more than 90 percent of those arrested were boys and young men.
In his remarks to Etemad, Kazemi also said that according to Director General of Hamadan province prisons, around forty protesters had been arrested. It is not clear whether he was referring to those still in detention or the total number of arrested individuals.
According to Kazemi, many of the detainees have rejected the bail set for them and have demanded lower bails and a faster legal process to deal with their cases.
Iran's Center for Human Rights had warned that the Iranian judiciary system accused protesters of "corruption" and "fighting", the penalty of which can be death if approved by the court. They added that several protesters have already been arrested in Hamadan and face the possibility of getting such a penalty.
The International Campaign for Human Rights has said that most of the protesters who were arrested during recent unrests were not given a chance to be represented by lawyers or to meet with their families while in custody. The ICHR added that inmates could face the charges of "fighting God and the saints" which could lead to death sentences.
Iran witnessed widespread protests last month starting from the city of Mashhad with slogans against poverty and unemployment. They quickly spread to more than 100 cities, and the slogans turned into calls to topple Ali Khamenei's regime.