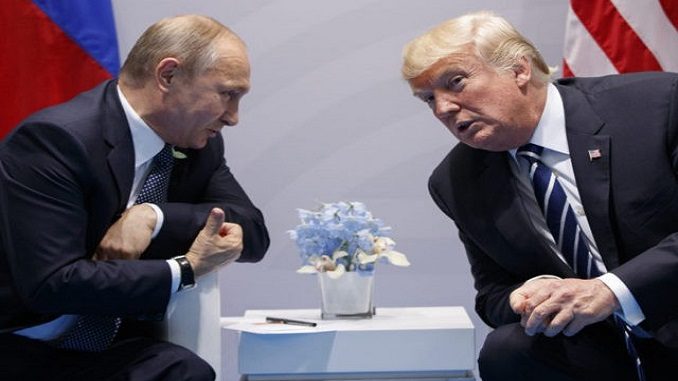 Moscow warned on Monday there would be "negative consequences" if U.S. President Donald Trump fails to uphold the landmark Iran nuclear deal negotiated by his predecessor. Trump is a fierce critic of the 2015 accord, which he called "the worst deal ever", and U.S. officials say he intends to tell Congress next week that Tehran is not honouring its side of the bargain.
"Obviously if one country leaves the deal, especially such a key country as the U.S., then that will have negative consequences. We can only try to predict the nature of these consequences, which we are doing now. Putin has repeatedly hailed the importance of the existing deal," Dmitry Peskov, Russian President Vladimir Putin's spokesman said.
Speaking in Beijing, Chinese Foreign Ministry spokeswoman Hua Chunying said the nuclear deal was a good example of how to solve something peacefully through talks, Arab News reports.
"The agreement had played a positive and important role in ensuring nuclear non-proliferation and protecting peace and stability in the Middle East. We hope that the comprehensive Iran nuclear agreement can continue to be earnestly implemented," Hua told a daily news briefing.
The Chinese remarks came as UN atomic agency chief affirmed Iran's commitment to the nuclear deal.
"I can state that the nuclear-related commitments undertaken by Iran under the (nuclear agreement) are being implemented," International Atomic Energy Agency (IAEA) chief Yukiya Amano said in prepared remarks during a conference in Rome.
An IAEA report released last month had also affirmed Iran's compliance with the program, which froze some of Tehran's nuclear activities. Trump is expected to announce that he is "decertifying" Iran's compliance with the agreement it signed to limit its nuclear programme in exchange for sanctions relief.
U.S. officials insist this will not sink the deal itself but open the way for Congress to possibly develop new measures to punish other aspects of Iran's behaviour. Resumed sanctions could derail the accord negotiated with Tehran by former president Barack Obama and other major world powers. Congress requires the president to certify Iranian compliance with the deal every 90 days. The next certification date is October 15. Under the law, Congress would then have 60 days to decide whether to reimpose sanctions lifted by the deal.