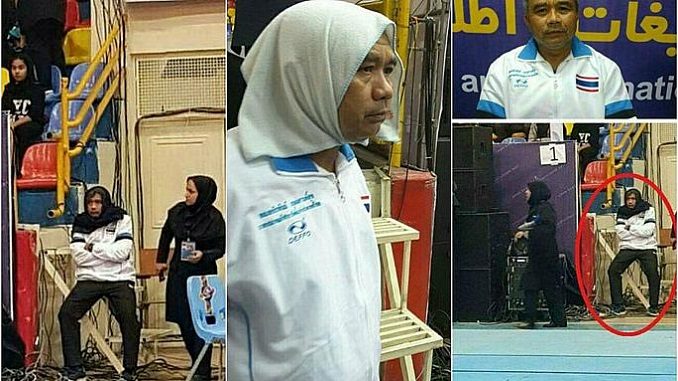 The Asian sport of Kabaddi, a popular contact sport that is a mix of rugby, wrestling and tag, held the 2017 Championship match in Gorgan, Iran this week. Strict reactionary norms imposed by Iranian regime demand that men are banned from attending female sporting events because the requirements for women to wear headscarves in public are lifted, Iran News Update reports.
In order to enter the playing arena with his team, the male coach of the Thailand women's kabaddi team was forced to wear a hijab. The Thai coach wore a hijab to pretend to be a woman so he could be present during his team's matches. In Iran, men are not allowed to enter sports venues when women athletes are in action. Some reports said the coach was ordered to leave once, but managed to slip back in.
The Iranian Federation of Kabaddi slammed the Thai coach on Wednesday. In a statement, the Iranian federation said the incident was "unjustifiable" and that the man had "violated the rules of host country."
A spokesman for the Iranian federation, Abuzar Markalai, told the website Jam-e Jam, that the Thai coach should "apologize for his disrespectful gesture towards women". Rumours spread on social media on Wednesday that the coach had actually been instructed to wear a headscarf, but this was denied by Markalai.
This is not the first time the hijab rule in Iran has troubled sports and sportspersons. Last year, top India hooter Heena Sidhu had pulled out of Asian Airgun Shooting Championship in Iran due to their compulsory hijab rule for all women athletes.
"I am against women made to do a certain thing while men are not. It's more of a man-woman thing. It should be avoided in sport. You are after all inviting sportspersons to compete in your land," Heena said in an interview.
She added that world sports bodies might take a stronger stand if more athletes protest.
"It could happen if athletes object.  It's about taking a stand on something you don't believe in," she said.
A year later, not much has changed, as is evident by what the Thailand coach had to do to be with his team. A growing number of women in Iran are now refusing to wear the mandatory headscarf, but women athletes are still required to turn up in hijabs. There has been mounting pressure to lift restrictions around women and sport in Iran, particularly the ban on women attending men's football matches, which is officially in place to protect them from uncouth behaviour.
A similar ban on attending volleyball matches was introduced in 2012, though has been increasingly waived over the past year. Earlier this year, FIBA (The International Basketball Federation) representatives witnessed Iran's women basketball player in action in Tehran. It was a historic event, as it is the first time, since the 1979 Revolution, that men watched a women's sport in person in Iran.