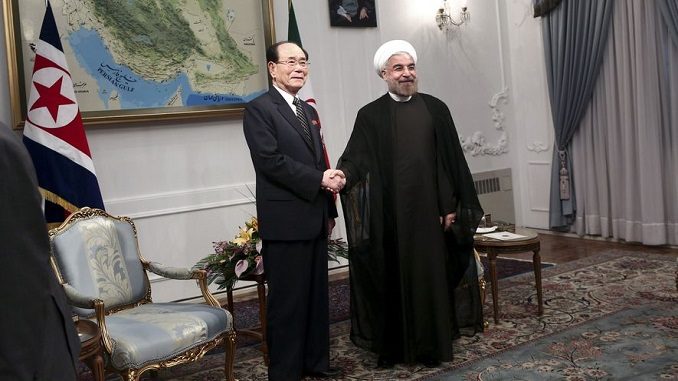 Meetings between high-ranking officials from North Korea and Iran are raising concerns in the U.S. government about the deep military ties between the two rogue nations and American adversaries, Iran Focus reports.
The suspicious meetings began in August, when Kim Yong-nam, North Korea's number two political leader and head of its legislature, visited Iran. Officially, he was attending the inauguration of President Hassan Rouhani, but the length of the visit and the size of his delegation set off alarm bells in the U.S. Most of these meetings have been so secret that they are not even reported by state media and are recorded by the U.S. and South Korean intelligence services.
An analysis from the Washington Institute for Near East Policy said U.S. intelligence has spotted Iranian defense officials in North Korea over the past year, raising the spectre that Pyongyang and Tehran might be sharing certain military technological advances with each other. The concern over collusion intensified with Tuesday's ballistic missile launch by the regime of North Korean leader Kim Jong-un. The 53-minute missile test, the first by Pyongyang in more than 2½ months, landed off the coast of Japan and may have traveled higher into space than any other North Korean missile, U.S. and South Korean military officials said.
At least one high-level North Korean visit to Iran has also taken place, according to the analysis published this week by the Washington Institute, which is known for its criticisms of the Iranian regime.
"In early August, Kim Yong-nam, North Korea's No. 2 political leader and head of its legislature, departed Pyongyang amid great fanfare for an extended visit to Iran. The official reason was to attend the inauguration of President Hassan Rouhani, but the length of the visit raised alarm bells in Washington and allied capitals," the analysis said.
Over the past year, North Korean missile capabilities have improved significantly and many Iranian defence officials have been spotted at test sites and missile factories, like Mohsen Fakhrizadeh, an Iranian general whom the UN has accused of working with Fereydoun Abbasi-Davani on secret nuclear weapons research.
While in 2016, the U.S. reported that Iranian missile technicians, from one of the Regime's most important defense companies, the Shahid Hemmat Industrial Group (SHIG), had travelled to North Korea to help develop an eighty-ton rocket booster for ballistic missiles. Reportedly, Sayyed Javad Musavi, a top official at SHIG, worked with the Korea Mining Development Trading Corp (KOMID), which is under international sanctions for its role in procuring equipment for North Korea's illicit nuclear and ballistic missile programs.
Officials from in Washington, Asia, and the Middle East who track the relationship between the two countries have said that there is already a collaboration commitment over their ballistic missile systems and other military/scientific programs, which means that their relationship is more deadly than we thought. One senior U.S. official said: "This will be one of our top priorities."
This has been backed up by sources in the Iranian Resistance. North Korea also recently opened an embassy in Tehran, which shows deepening ties between the two nations. The two countries are also presenting a united front against the U.S. and its allies, which includes North Korea supplying weapons to Iran's ally Bashar Assad in Syria and the Iranian-backed Houthis in Yemen, with which they attack U.S. allies.
Kim said: "Iran and North Korea share a mutual enemy [the United States]. We firmly support Iran on its stance that missile development does not need to be authorized by any nation."
It is clear that the U.S. and its allies must continue to scrutinise this relationship.
With sanctions and rhetoric, President Donald Trump may be pushing North Korea and Iran closer together. In refusing to certify Iranian compliance with the JCPOA, otherwise known as the Iran nuclear deal, the Trump administration hopes to keep Iran from becoming another nuclear armed adversary state.
But experts say that by walking away from the Iran accord while simultaneously trying to coax North Korea back to the negotiating table, the Trump administration doesn't just risk undermining its own efforts to strike a deal with Kim Jong- un's regime over its nuclear and ballistic missile programs.
The president also risks pushing the two pariah states closer together, potentially rekindling a collaborative military-to-military relationship that reaches back decades and heightening the prospect that ballistic missile and nuclear weapons technologies will proliferate. It is a relationship former President George W. Bush coined "the axis of evil."
While the opaque nature of the Iranian and North Korean regimes make it difficult for Western analysts to monitor the relationship between them, military ties between the two states go back as far as the 1980s.