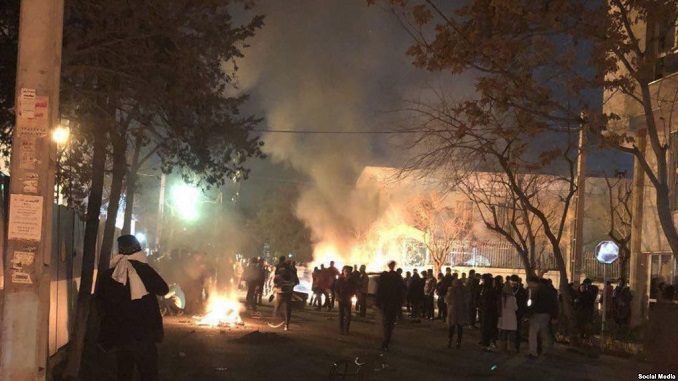 Iranian sources reported on Tuesday the death of three Gonabadi Sufis in the hospital hours after being shot in clashes with Iranian security forces north of the capital Tehran. The site "Zaytoun" reported that the Iranian police forces have transferred three Gonabadi Sufis on Monday evening to the hospital in Tehran and were reported dead on Tuesday night as their injuries were fatal, Track Persia reports.
Monday evening witnessed intense clashes between protesters and the security forces in the Iranian capital Tehran, which lasted until Tuesday morning, killing at least five security men, wounding dozens from both sides and leading to the arrest of hundreds of protesters.
The official Iranian news agency Irna quoted a police spokesman as saying that three policemen and two Basij militia were killed during the clashes, and 300 Gonabadi Sufis were arrested. A video posted on social networking sites in Iran showed a speeding bus trampling a number of policemen during the clashes. Police sources claim that the driver is a Gonabadi Sufi called Mohammed Thalith, who is denied by the Sufis.
The Sufi protests began after the arrest of a person named Nematollah Riahi about two weeks ago during violence in northern Tehran, where the Sufis gathered outside the house of their guide, "Nurallah Tabenda", following reports that the security forces intend to arrest him.
This occurred although Tehran police chief Hussein Rahimi announced that "There is no intention to go after the Gonabadi Sufis in Tehran." In the last two decades, Gonabadi Sufis have been subjected to security pursuits throughout Iran, with several arrested and facing charges.
According to Iran Front Page, there is evidence that proves elements who raided a police station in northern Tehran Monday in apparent support for the dervish community were being supported by foreign governments, a senior judicial official said. Iran's Prosecutor General Mohammad-Jafar Montazeri said "a bunch of thugs" have caused the "unfortunate incident", referring to the recent clash between police forces and a number of rioters claiming to be affiliated with Gonabadi Dervishes, a Sufi community in Iran.
Three police forces and two Basijis were killed during the clash in Tehran's Pasdaran neighborhood. A huge funeral was held for them on Thursday, which was attended by thousands of people.
"A number of elements – who were portraying themselves as Dervish affiliates but in fact were using the title as a cover – were behind the attacks," ISNA quoted Montazeri as saying.
He vowed the judiciary will deal with the perpetrators decisively, as protecting the people's security is of utmost importance to the system.
Meanwhile, Interior Minister Abdolreza Rahmani Fazli has defended the Dervish community, describing them as "logical people" who were not supportive of acts of violence.
"Definitely, violations by a few people from this community should not be attributed to all Dervishes", Rahmani Fazli told reporters after a Cabinet meeting Wednesday, in remarks that seemingly contradicted Montazeri's narrative of the incident.
The clash came after an illegal gathering in front of a police station in northern Tehran turned violent. The protesters were demanding the release of some of their friends who had been arrested on unclear charges.  Police said more than 300 people were arrested in the violence, during which the attackers also damaged public property and smashed the windows of nearby houses. One of the Basiji forces was killed in a car ramming and another lost his life in a knife attack after three police forces were killed in a bus attack by the agitators. The violence also left 30 policemen and a number of attackers injured.