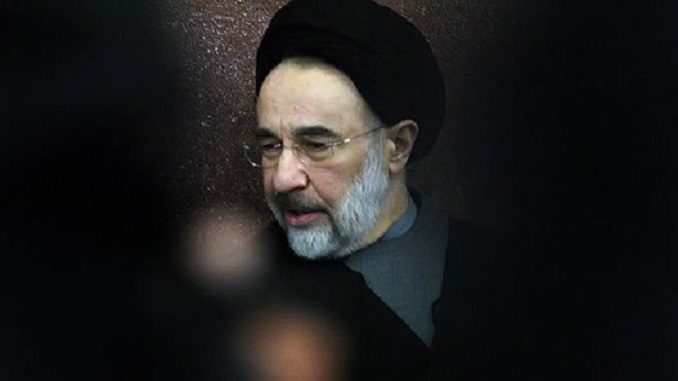 The reformist faction in the Iranian parliament has protested against the "new restrictions" imposed on the country's former president, Mohammad Khatami, calling them "explicit and obvious" violation of articles of the Constitution Asharq al-Awsat reports.
Meanwhile, 86 MPs have called upon President Hassan Rouhani to step in to prevent the restrictions and report the outcome to the parliament. The spokesman of the judiciary, Gholam-Hossein Mohseni Ejei has insisted that the restrictions are not new and are merely the extension of old measures imposed on the reformist ex-president based on a resolution approved by the Supreme National Security Council Secretariat (SNSCS).
But Rouhani, who also presides over the SNSCS, has dismissed the judiciary's claims as unfounded and his ministers insisted that the SNSCS has never issued a resolution banning Khatami from attending public ceremonies.
The Reformist faction Omid in the parliament issued a statement on Sunday, saying "increasing restrictions on Khatami's presence at cultural, political and promotional ceremonies" are in violation of the Articles 20, 23, 36 and 37 of the country's Constitution and have increased the former president's popularity.
Furthermore, several MPs called upon Rouhani to guard fundamental rights and prevent any move that restricts citizens' rights. They also asked Rouhani to act against the recent conviction of several political activists and report its outcome to the public.
Kalemeh, an opposition website close to Iranian Green Movement, has reported that "the Special Clerical Court has sent a letter to former president Khatami informing him that, for a period of three months, he is barred from attending any political and promotional ceremonies."
Based on the letter, Khatami is now barred from attending assemblies, conferences, seminars, theaters, artistic ceremonies and performances, including, concerts, recitals and dramas. The letter has gone much further, barring the reformist ex-president from attending non-family gatherings, including private meetings with activists.
Khatami is believed to have played a crucial role in Rouhani's ascension to the presidency in 2013 and 2017, apparently convincing his second term vice president, the reformist challenger Mohammad Reza Aref to step aside in favor of Rouhani.