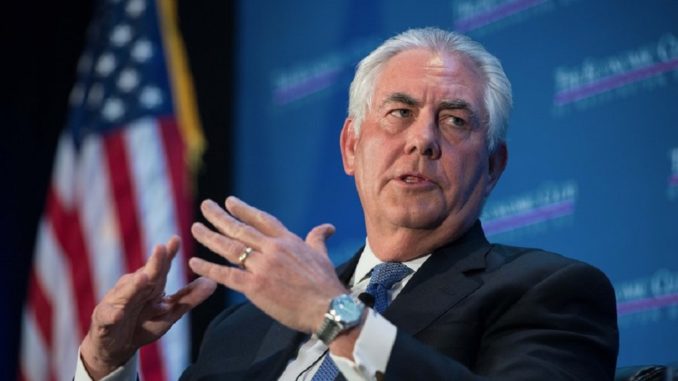 Secretary of State Rex Tillerson said he and Iran's Foreign Minister "didn't throw shoes at one another" at their first meeting, but he added that it isn't clear whether they will be able to agree on the future of the Iranian nuclear deal.
Tillerson spoke to reporters after a United Nations meeting of countries involved in the Joint Comprehensive Plan of Action, the agreement that curbed Iran's nuclear program in exchange for sanctions relief, and one President Donald Trump has excoriated.
The 72nd annual General Assembly meeting at the United Nations was dominated by concerns about North Korea's nuclear program and the fate of the Iran nuclear deal, which Trump declared "an embarrassment to the United States" and has indicated that he wants to abandon.
The "Iran deal was one of the worst and most one-sided transactions the United States has ever entered into," Trump said in his first address to the UN. On Wednesday, Trump told reporters at the UN that he had made a decision about how to proceed when he next has to certify in October that Iran is in compliance. Tillerson said Trump has approached the decision of whether to stay in the Iran nuclear deal in the "right way," and has been "very deliberative," listening to a variety of viewpoints.
"I think the time has come for a decision to be made," Tillerson added. Trump "has not shared that decision (about the future of the deal) with anyone externally," including British Prime Minister Theresa May, who asked, Tillerson said.
The top US diplomat said his first opportunity to shake hands with Iranian Foreign Minister Mohammad Javad Zarif left him with the impression of a "well-educated, very sophisticated" man.
He said that at the meeting there was "a good opportunity to meet, shake hands" and "the tone was very matter-of-fact, there was no yelling." He added with a chuckle, "we didn't throw shoes at one another."
"Whether we can agree, that's another thing," Tillerson said. The leaders gathered at the JCPOA meeting had an "open and candid exchange," Tillerson said. It was "not a technical discussion," he said, "it was a political discussion."
He reiterated the Trump administration's concerns about the deal and Iran's behavior writ large, and said the administration is planning further steps to address that behavior without falling out of compliance with the deal. While everyone around the table agreed Iran is in technical compliance with the deal, Tillerson said the US believes Iran is not in compliance with the spirit or expectations of the deal.