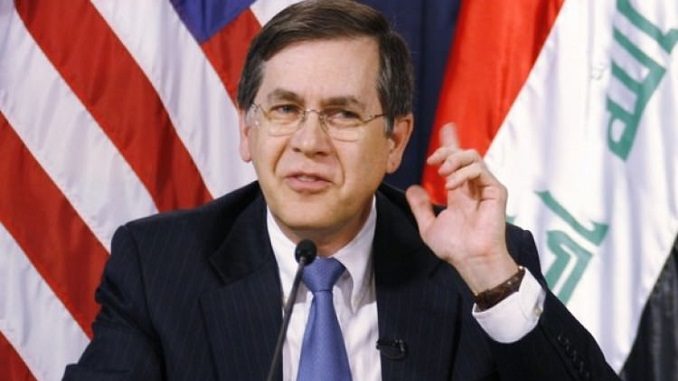 Iran will not escape punishment if it continues advancing the production of sophisticated missile technology in the region, U.S. Assistant Secretary of State David Satterfield said on Wednesday, The Jerusalem Post reports.
Satterfield's comments, made at the Institute for National Security Studies (INSS) annual conference in Tel Aviv, came two days after Prime Minister Benjamin Netanyahu told Russian President Vladimir Putin that Israel would take action if necessary to prevent Iran from entrenching itself further in Syria and turning Lebanon into a factory for the manufacture of precision missiles.
"We are concerned about Iran's willingness to proliferate destabilizing missile technology to regional proxies, to arm militias. We do not want to see any future proliferation of this technology, these sophisticated systems, anywhere; not in Yemen, and certainly not to Hezbollah," Satterfield said, noting that the Iranian-backed Houthis in Yemen acquired this technology, which was then used to fire short-range ballistic missiles at Riyadh and other Saudi Arabian cities.
Iran, Satterfield said, has capitalized on the regional instability created by Islamic State.
"We are looking to every means we have to contain, restrain and ultimately roll back Iran's influence throughout the region. Iran's support for (Syrian President) Assad's regime and Hezbollah is a profound threat of course to Israel, to the U.S. and all our common interests," he said.
Satterfield said the U.S. administration's policy on Iran focuses on all the threats it poses, not just the nuclear threat. Nevertheless, he said that Washington "remains committed to ensuring that Iran does not develop or acquire a nuclear weapon" and that U.S. President Donald Trump has outlined two paths forward on this issue: either fix the nuclear deal's flaws, or the US will walk away from it.
With that, Satterfield said that the U.S.' highest priority in the region is the defeat of Islamic State, which was "a strategic threat unlike any we have seen before." Now that Islamic State is on the verge of defeat, "we have to ensure that the post-ISIS environment does not produce new instability, a new generation of threats by ISIS-redux or other terrorist groups."
To ensure that, he said, the U.S. "will maintain a military presence in Syria, focused on ensuring that ISIS cannot reemerge."  He said the U.S. believes that a stable future in Syria requires "new leadership in Damascus, with the departure of this regime."
The transition to that point, he continued, can take place "only as part of a Syrian-led political process, one that allows the whole of the Syrian people, including those displaced, to determine their future free from threat, intimidation, and foreign interference."