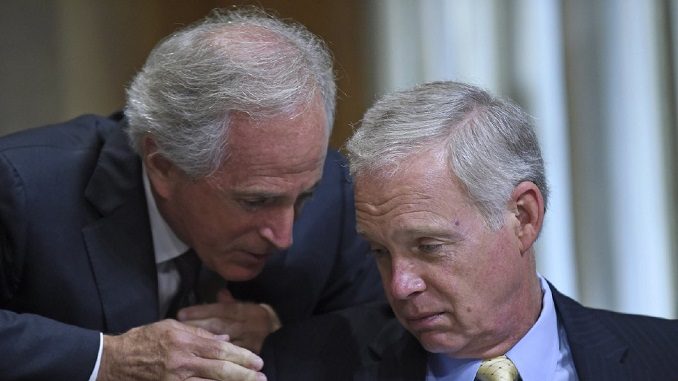 U.S. President Trump's latest ultimatum on the Iran nuclear deal has increased the pressure on congressional negotiators who are trying to write a bill to improve the controversial pact, lawmakers acknowledged after his Friday announcement.
"I think we need to pass something that will put our country in a better position as it relates to what I think is just a horrible deal," Wisconsin Senator Ron Johnson, a Republican member of the Foreign Relations Committee, told the Washington Examiner.
A firmer articulation of the warning Trump issued in October, it comes months into negotiations between Foreign Relations Committee leaders, which may not get close enough to Trump's liking. Trump eschewed a modest tone in his Friday message to Congress. "Any bill I sign must include four critical components," he said.
Those provisions include the broader access for international monitors seeking to inspect Iran's nuclear program, in perpetuity, and a mandate to impose "severe" sanctions on Iran's ballistic missile program. Senate Foreign Relations Chairman Bob Corker maintained a united front with Trump on Friday, but his Democratic counterpart on the committee expressed more alarm that Trump would undermine the talks.
"Instead of leading an international negotiation on the agreement himself, however, the president's statement-making threats and dictating final terms of potential negotiations with Congress and Europe makes it more challenging to achieve this objective," said Senator Ben Cardin.
As lawmakers attempt to thread that needle, they run the risk of appearing soft on Iran by comparison to Trump or other congressional foreign policymakers. That difficulty is heightened in the Senate, where Corker has to develop a bill that can win enough Democratic support to avoid a filibuster.
"The president's announcement undeniably puts pressure on the Senate to start moving, and Corker will be feeling that from both his left and right. But the bigger challenge is going to come from the House, where Republicans are coalescing around competing for legislation that's backed by influential Iran hawks," a source close to the congressional negotiations told the Washington Examiner.
A former assistant director for national security in the White House Office of Science and Technology thinks that the EU position is that Iran would not accept indefinite limits on its enrichment program and that Trump's demand is therefore unrealistic."
"Iran's unilateral decision to limit the range of its ballistic missiles to 2,000 kilometers was very wise and important," Frank N. von Hippel tells the Tehran Times in an exclusive interview.
Commenting on Trump's recent approach to JCPOA, Marvin Zonis, Professor of international political economy and leadership at the University of Chicago says his approach is stupid and contrary to the U.S. national interest.
"Trump's latest approach toward the JCPOA is as stupid and contrary to America's national interest as his earlier approaches. I am confident he understands nothing about the agreement other than it was made by President Obama. That is enough for Trump to hate the agreement irrespective of its contents," he says.
Zonis believes Trump will demand changes that will be unacceptable to the P5+1 as well as to Iran, implicitly for the purpose of blowing up the deal, and that the other signatories will not agree to Trump's request – and of course, he has no better alternative.
"Since Iran does not have nuclear weapons and North Korea does, it is much safer for Trump to order air strikes against Iran. It certainly seems that he is eager to bomb someone – Iran may be his first choice," Zonis said when asked how serious should Trump's threat be taken.