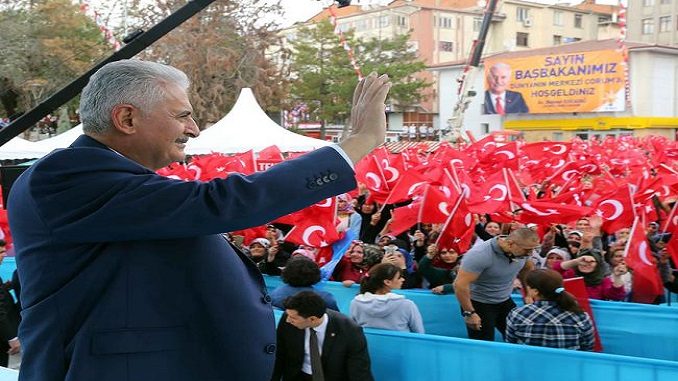 Turkish Prime Minister Binali Yildirim said on September 28 that he wants to hold a trilateral summit with Iranian and Iraqi leaders to coordinate their response to the Kurdish vote for independence in Iraq, Hurriyet Daily News reports.
"We are planning to come together in the near future to coordinate the steps to be taken for the next period," Yildirim told reporters in Turkey. "We want a three-way summit," he said, noting that the three countries were doing their best to overcome the crisis caused by the referendum with the minimum damage.
Yildirim's office said he discussed the referendum in a phone conversation with Iranian First Vice President Eshaq Jahangiri on September 28. Iran, Iraq, Syria, and Turkey all have sizable Kurdish populations and have had to deal for years with Kurdish restiveness and calls for autonomy. The biggest share of the approximately 30 million Kurds in the region live in Turkey, which for decades has battled the PKK Kurdish militant group fighting for independence within its borders.
Although the Kurdish region in northern Iraq already has a considerable degree of autonomy from Baghdad, its voters this week endorsed a nonbinding resolution calling for independence by a margin of 92.7 percent. Left without a state of their own in the collapse of the Ottoman Empire after World War I, the Kurds see themselves as the world's largest stateless people straddled between Iran, Iraq, Turkey and Syria. By far the biggest population is in Turkey, which since 1984 has waged a campaign to defeat the PKK, which initially sought to create a breakaway state.
Baghdad, Ankara, and Tehran have refused to recognize the results of the vote and are now seeking to pressure the Iraqi Kurds to back down on their bid for independence by cutting economic ties and isolating the region. Turkey has threatened to shut its border with Iraq's Kurdish region and halt the flow of oil from that region through a pipeline to Turkey's Mediterranean port of Ceyhan. Turkey will speak directly to Iraq's central government on issues about borders, airports and economic relations.
Iraqi Prime Minister Haidar al-Abadi's office said on September 28 that Turkey also agreed to deal only with the Baghdad government in the future on crude oil exports. Iraqi Kurdish officials say they can withstand an economic blockade because they are self-sufficient in power generation and fuel supply, and have fertile agricultural land. They also say that most of the trucks crossing the Turkish border are only traveling through the Kurdish region on their way to territory controlled by Baghdad, so any blockade would hurt Turkey's and Iraq's economy as well as the Kurdish region.