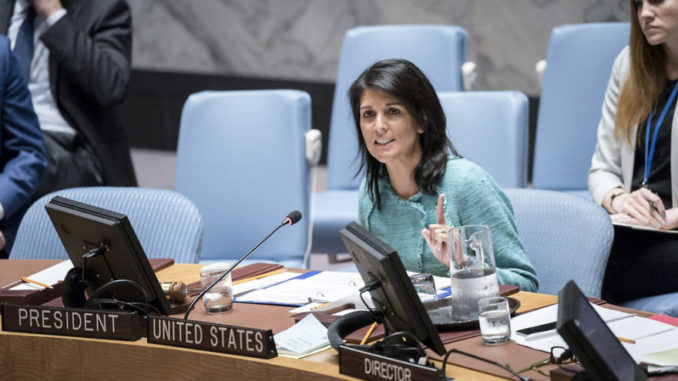 U.S. Ambassador to the UN Nikki Haley on Wednesday called Iran's piloting of a drone into Israel a "wake-up call" to the world regarding Iranian efforts to cement its presence in Syria, Times of Israel reports. Speaking at the Security Council, Haley called the Iranian drone incursion over the weekend an "egregious and unprompted escalation."
"The drone flight this week is a wake-up call for all of us. Iran and Hezbollah are making plans to stay in Syria," she said.
The Iranian drone, which entered northern Israel from Syria near the Jordan border, was shot down by an attack helicopter. In response, Israeli jets attacked the mobile command center from which it was operated, the army said.
During the reprisal raid, one of the eight Israeli F-16 fighter jets that took part in the operation was apparently hit by a Syrian anti-aircraft missile and crashed. The Israeli Air Force then conducted a second round of airstrikes, destroying between a third and half of Syria's air defenses, according to IDF spokesperson Lt. Col. Jonathan Conricus.
"Iran was once again doing what it does – risking conflict and testing the will of its neighbors and opponents to resist its aggression. Israel rightly took action to defend itself. The United States will always stand by our ally when confronted with provocations from Iran, Hezbollah, or the Assad regime," said Haley.
Haley's remarks came after the White House, State Department and Pentagon all expressed support over the weekend for Israel's retaliatory strikes in Syria. Saturday's hostilities marked the first direct clash in Syria between Israel and Iran, after repeated warnings by Israeli leaders that Iran is working to establish a new front on the northern border.
Prime Minister Benjamin Netanyahu has warned Israel would take military action to prevent Iran's military entrenchment in Syria, as well against its Lebanese-proxy Hezbollah. Foreign media reports have attributed dozens of airstrikes in recent years against weapons convoys destined to Hezbollah and other strategic targets in Syria to Israel.
At the UN, Haley said the Syrian government is acting as a "front" for Iran to sow instability in the region.
"The Assad regime has become a front for Iran, Hezbollah and their allies to advance the irresponsible and dangerous agenda for the Middle East. When we look out across the Middle East, we know one thing for certain. When Iran and Hezbollah move in, instability always follows," said Haley.
Haley also said Iran's presence in Syria prevents the possibility of brokering a peaceful end to the nearly seven-year-long civil war.
"It's hard to see how a peace process will work while the Assad regime continues to launch all-out attacks against the Syrian people, and Iran and Hezbollah are entrenching themselves inside the country," she said.
At the Security Council session, the UN envoy for Syria said this is the most "violent and worrying and dangerous" moment in the country in four years, pointing to escalating violence on multiple fronts that undermines prospects for peace and regional stability.
Staffan de Mistura reiterated Secretary-General Antonio Guterres's appeal to those fighting and all concerned "to de-escalate immediately and unconditionally." And he urged Russia, Iran and Turkey especially "to use their influence to help reduce violence." He spoke at a Security Council meeting Wednesday and was followed by Haley and Russian Ambassador Vassily Nebenzia, who traded accusations about responsibility for blocking the path to peace.
Haley demanded Russia use its leverage to ensure a road to peace. Nebenzia asked the U.S.-led coalition to prevent opposition "provocations."