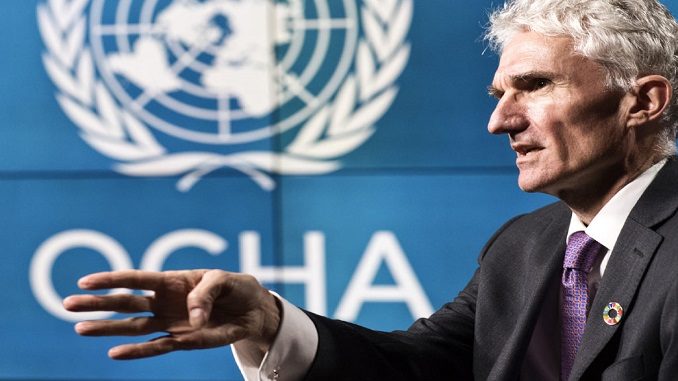 Concluding a two-day visit to Iran, the top United Nations humanitarian official said the Organization is ready to fill any gaps in the relief efforts following the devastating earthquake on 12 November that struck the Iran-Iraq border, UN News Centre reports.
"I commend the Government's efforts to save lives and alleviate the suffering of hundreds of thousands of people in the earthquake zone. During my visit, I also reiterated the UN's readiness to support the Government by providing humanitarian aid if it is required to fill any gaps in the response," Under-Secretary-General for Humanitarian Affairs and Emergency Relief Coordinator Mark Lowcock said.
In his meetings with senior officials, Lowcock discussed the promotion of emergency preparedness efforts, international cooperation in disaster response, enhancing the capacity of the urban search and rescue teams, and exchange of technical expertise and knowledge with Iran. He welcomed the "Getting Airports Ready for Disasters" exercise which will take place in Iran at the end of November.
Lowcock's discussions with the Government also covered major humanitarian crises, including in Syria and in Yemen, and the situation of the Rohingya refugees. He urged the Iranian Government to help facilitate response efforts, assistance and protection for the crisis-affected people, and humanitarian access. Among those he met with were Minister of Foreign Affairs Mohammad Javad Zarif and Deputy Minister of Interior Shojaei KIasari.
Twelve days have passed since the destructive earthquake leveled thousands of homes and claimed the lives of hundreds of Kurds in Iran's Kermanshah province. People living in makeshift camps in the mountains beside the rubble of their homes expect a hard winter ahead. They plea for help from the Iranian government and aid agencies in order to rebuild.
A 7.3 magnitude earthquake struck the Kurdistan Region-Iran on November 11, killing 437 and injuring over 7,800 in Iran. A total of 427,266 people are affected by the quake, according to the Iranian Red Crescent.
Layla Jawhar remembers running for her life the night the quake killed hundreds of people and forced tens of thousands from their homes. She and her family survived when her husband took her and their baby daughter out of the house, an experience that left her in a state of shock for three days. Her fear now is whether her small family will survive the cold.
"People have lost their houses. They have nothing left. I was sleeping last night, feeling like I was going to freeze. We have no lamps, cooking utensils, or electricity," she said, speaking inside a small tent.
The camps have little or no basic services.
"We need hygiene and toilets because our place lacks sanitation.  The place is polluted and because of that all of our children are sick.  We just need sanitation and heaters. It is winter time and as you know it is going to rain. We need a place that can shelter us from the rain and cold, a place where our children will no longer feel fearful," another displaced woman from Sarol-e Zahab told Rudaw.
With many rumours floating about and no immediate reconstruction plans evident, it will take some time before these people can feel over the shock. While the ruling regime failed to provide any first aid relief, Iranian opposition leader Maryam Rajavi made an early call asking supporters to rush to their compatriots in need.
"Just as opposed to the practices of the clerical regime, now is the time to show solidarity. Assisting and saving the victims of the earthquake is a sacred national duty," she said.
Instead of focusing measures to rush aid for the victims, Iran's regime imposed martial law in Sarpol-e Zahab, the epicenter of the earthquake.