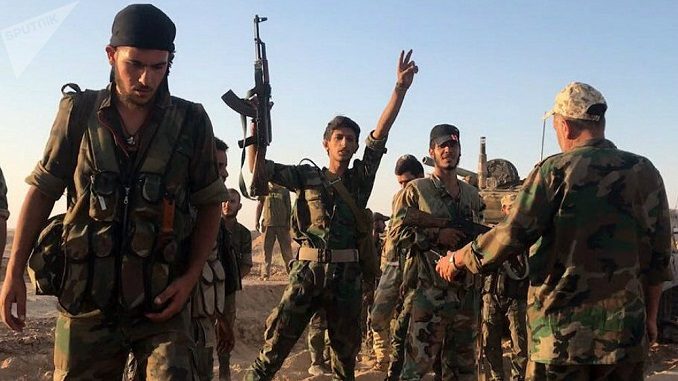 Israeli military commanders and analysts are closely watching the northern border as Iranian-backed Syrian forces continue to advance towards a strategic area along that country's border with Israel and Lebanon, Jewish Press reports.
The Syrian and Iranian forces have moved east and south of the area of Beit Jin in southern Syria, located southwest of Damascus on the foothills of Mount Hermon, which up to this point has been held by Sunni rebel forces.
Western intelligence has confirmed the Shi'ite militias include the Hezbollah terrorist guerrillas, who are playing a major part in the ongoing battles, according to Reuters. Iranian-backed forces are trying to solidify their territory from the area southwest of Damascus – known as the Western Ghouta, already under Syrian regime control – down to the border with Israel, according to the rebel fighters.
A source quoted by Reuters reporter Suleiman Al-Khalidi said the Iranians are pushing to establish a strategic presence along the Israeli border in the Syrian Golan Heights. Thousands of Shi'ite fighters have been recruited by Iran to fight on behalf of Syria from Iraq and Afghanistan.
The IDF has stepped up its own activities in the north in order to maintain deterrence levels, striking Iranian targets inside Syria.
Prime Minister Benjamin Netanyahu has repeatedly warned Russia and the United States that Israel will not accept a permanent Iranian presence in Syria. Netanyahu has told the leaders of both nations that Israel's military will "operate in Syria, including southern Syria, in accordance with our understanding and in accordance with our security needs."
Israeli Defense Minister Avigdor Liberman had a similar message for his Russian counterpart in October when Defense Minister Sergei Shoigu arrived in Tel Aviv.
"We won't get involved in the internal affairs of Syria, but by the same token we also won't allow Iran and Hezbollah to transform Syrian territory into an advanced military operating base against Israel,"he told Shoigu.
Meanwhile, Syrian rebels pinned down in a strategic area where the Israeli and Lebanese borders meet with Syria were handed an ultimatum by the Syrian army and its Iranian-backed militia allies to either surrender or face certain military defeat, rebels said on Tuesday.
The Syrian army backed by local militias financed and equipped by Iran alongside Druze fighters from the area have been escalating a fierce assault against Sunni rebels in an enclave in the foothills of Mount Hermon, close to both the Israeli and Lebanese borders.
"They were given 72 hours to surrender with fighters to go to Idlib or those who want to stay have to reach a settlement," said Ibrahim al-Jebawi, a Free Syrian Army (FSA) official familiar with the situation on the ground.
Another rebel official who asked not to be named said they were told either to "surrender or a military solution." Iran-backed Lebanon's Hezbollah's media unit said insurgents had agreed to negotiate surrender terms and said negotiations had already begun over their evacuation in the next few days to rebel-held Idlib.