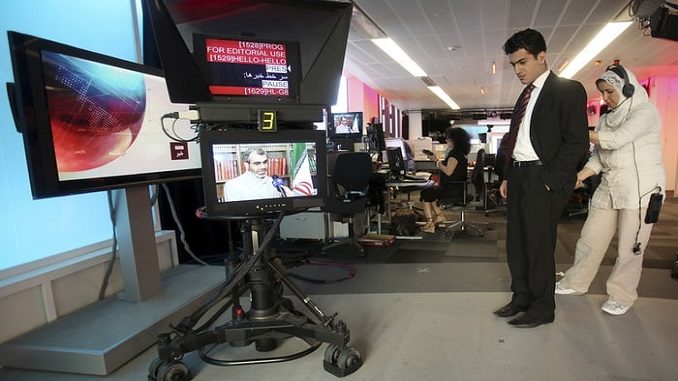 A UN special rapporteur on Wednesday urged Iran to stop harassing BBC employees from the Persian service after Tehran launched a criminal investigation of 152 staff for "conspiracy against national security," BBC reports.
David Kaye, the special rapporteur on the promotion and protection of the right to freedom of opinion and expression, said he had raised concerns with the Iranian government and was awaiting a response.
"We urge the government of Iran to stop harassing the employees and the families of employees of the BBC Persian service as well as other journalists," Kaye told a news conference at UN headquarters.
The BBC filed an urgent complaint to Kaye and to Asma Jahangir, the UN special rapporteur for human rights in Iran, over the investigation and an Iranian court order freezing the assets of BBC Persian staff. Kaye said the complaint was "very, very serious" and stressed that the journalists were "only trying to do their job – which is a job that is protected by international human rights law."
BBC director general Tony Hall said Iran's action was "an unprecedented collective punishment of journalists" and against fundamental human rights.
"The Iranian government is conducting what appears to be a politically motivated investigation into 152 BBC Persian staff, former staff and contributors, accusing them of conspiracy against national security in Iran," said Tony Hall, the BBC's director general.
Hall urged "the international community to use their own influence in Iran to persuade the authorities that this completely unacceptable treatment must end."
The BBC complaint to the UN cites what it describes as numerous severe breaches of Iranian obligations under various international treaties to which it is signatory. Under the court order, BBC Persian staff are barred from inheriting family assets and they are prevented, as well as their families, from selling assets, such as property or even cars, in Iran. BBC Persian broadcasts news from London on TV, radio and online. It reaches an estimated audience of 18 million every week despite being banned in Iran. Like other branches of the BBC World Service , it is funded by the Foreign and Commonwealth Office rather than via the license fee.
The organization said former and serving staff members had been subject to intimidation tactics including the detention and interrogation of of relatives and friends in Iran, including children, and falsified allegations of sexual misconduct that is illegal in Iran. Those swept up in the investigation include Iranian dual nationals from Australia, Austria, Canada, France, Germany, Britain, and the United States, the BBC said.
The Iranian Foreign Ministry was not immediately available for comment.
"We regularly raise our human rights concerns with the Iranian government, and will continue to take action to pressure Iran to make improvements on human rights and freedom of expression, including at the UN," a Foreign Office spokesman said.
The BBC first disclosed the asset freezes in August, saying they came from a court at Tehran's notorious Evin prison, which holds dual nationals and political detainees, among other prisoners. The court order stopped those named from selling, buying, or inheriting property and assets in the country until December 20, when the outcome of the criminal investigation is to be announced, according to the complaint.
"BBC Persian staff are unable to return to Iran as they risk arrest, interrogation, and imprisonment. Many BBC Persian staff have been separated from their families for years and, in a number of cases, were unable to see loved ones before they have died," the complaint said.
A former BBC World Service Trust employee named Nazanin Zaghari-Ratcliffe is serving a five-year prison sentence over allegations of planning the "soft toppling" of Iran's government while traveling there with her toddler daughter.
Zaghari-Ratcliffe, a British-Iranian woman, now works for the Thomson Reuters Foundation, the charitable arm of the news agency. She's been threatened recently with charges that could add another 16 years to her prison sentence.