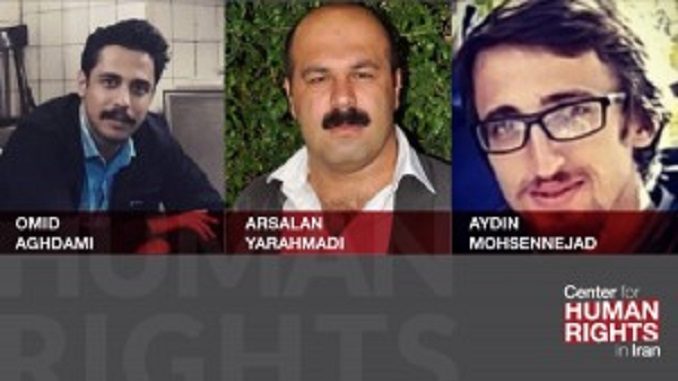 The Iranian Intelligence Ministry has illegally detained or summoned close relatives of at least three activists from northwestern Iran since anti-government protests erupted in the region in late December 2017, Track Persia reports.
"One of the main principles of modern law is that… everyone is responsible for their own actions. Ethics, fairness, and justice dictate that no one should be punished for another person's crimes. This principle has been in [Iran's] Islamic Penal Code for 1,400 years. If we disregard it, we will slip back into ancient times when suspects' relatives were punished for unrelated crimes," Iranian attorney Mohammad Moghimi told the Center for Human Rights in Iran (CHRI) on January 22, 2018.
Agents of the Intelligence Ministry detained the father of Kurdish journalist Arsalan Yarahmadi in late December 2017 in Kermanshah Province.
"I work for the Hengaw news agency, which only publishes news about human rights in Kurdistan. It does not publish any political news. But on the second day of protests in the area on December 30, agents went to our house and detained my father," Yarahmadi told CHRI.
He added: "This is not the first time my family has been harassed. But this time they kept my father in detention for three days and told him that I had insulted and disrespected the supreme leader of the Islamic Republic. This is not true at all. We do not publish political news. We only cover human rights issues in Kurdistan."
Yarahmadi said his father was released on 50 million tomans bail, approximately $13,600.
"My activities have nothing to do with my father. How can they detain and harass him? This is completely inhumane. I will follow up with human rights organizations," he said.
Omid Aghdami, a senior member of the Society for the Defense of Children's Rights in Tabriz, told CHRI that his mother was summoned to the Intelligence Ministry's office in Tabriz on January 21 and interrogated for six hours.
"They asked her questions about my exact location since I escaped Iran and about the people who have visited our house. They accused my mother of helping me escape and threatened to prosecute her. She has been banned from leaving the city," said Aghdami, who has been living in exile since November 2017.
CHRI has also learned that art student Aydin Mohsennejad's father (first name unknown) was detained in early January. Aydin Mohsennejad is the editor-in-chief of Jame'eh (Society) magazine, a student publication.
The University Trade Unions' Council of Iran (UTUCI) reported that Intelligence Ministry agents raided Aydin Mohsennejad's home without a warrant on January 5 and confiscated some of his personal belongings. After failing to locate Aydin, the agents took his father to the Central Prison in Khoy, West Azerbaijan Province.