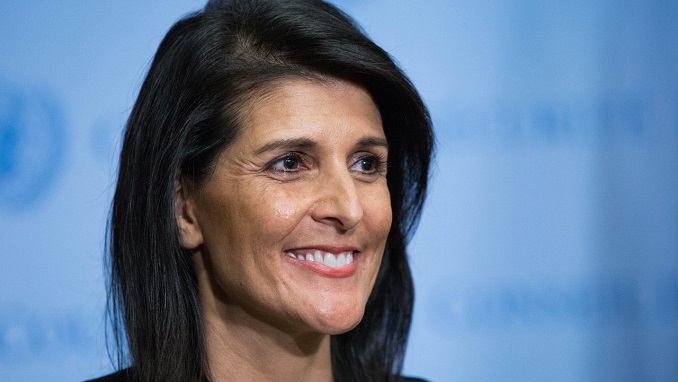 U.S. Ambassador to the UN Nikki Haley met with International Atomic Energy Agency officials in Vienna on Wednesday for what she described as a fact-finding mission, which is part of President Donald Trump's review of the deal Iran made with world powers to curb its nuclear program in return for the lifting of most sanctions, Tehran Times reports.
Haley asked on Tuesday if the UN atomic watchdog plans to inspect Iranian military sites to verify Tehran's compliance with a 2015 nuclear deal. Based on the nuclear agreement, Iran agreed to put limits on its nuclear program in exchange for the lifting of economic and financial sanctions. The deal was signed between Iran, the European Union, Germany and the five permanent members of the UN Security Council including the U.S. It went into effect on January 16, 2016.
Most UN and Western sanctions on Iran were lifted in return, but others related to non-nuclear issues have remained in place or been ratcheted up. Meanwhile, Trump slammed the 2015 deal as "terrible" and raised tensions between the two longtime foes, with both accusing each other of not adhering to the "spirit" of the accord. Regime's President Hassan Rouhani said last week that Iran could walk away within hours, accusing Washington of "constant and repetitive breaking of its promises" under the deal.
Haley responded that the new sanctions are related to Iran's support for "worldwide terrorism" and other behavior and that Iran cannot "use the nuclear deal to hold the world hostage". Trump is due in October to certify to Congress whether Iran is sticking to the deal.
In July he told the Wall Street Journal he "would be surprised if they were in compliance". Haley made no comment to reporters on Wednesday as she arrived for her talks with IAEA chief Yukiya Amano. The Washington Post on Tuesday quoted her as saying her talks were to answer US questions about the watchdog's inspections and monitoring.
"We have no decision made" about whether to scrap the deal, Haley was quoted as saying. "What we are doing is trying to find out as much information as we can."
"The Trump administration needs a wake-up call on the costs of sabotaging the nuclear deal with Iran," Arms Control Association analyst Kelsey Davenport told AFP.
"Hopefully visiting the IAEA will allay concerns about monitoring the agreement and demonstrate to Haley that the deal put Iran's nuclear program under a microscope and keeping it there is the best way to guard against any illicit nuclear activity," Davenport said.