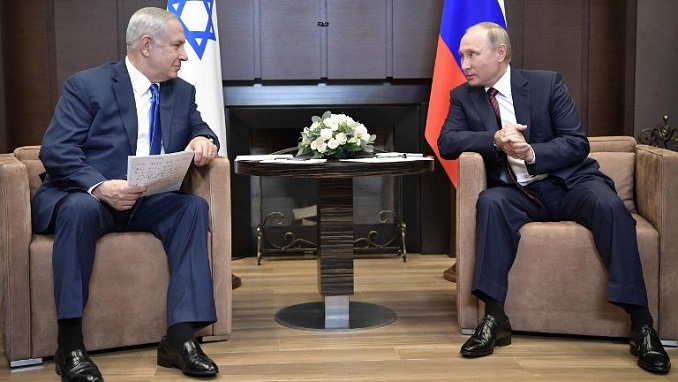 Israeli Prime Minister Benjamin Netanyahu accused Iran of posing a threat to his country with its growing influence in Syria, during a meeting with Russian President Vladimir Putin on Wednesday in the Black Sea resort of Sochi. Netanyahu warned that Iran was trying to establish a permanent presence in Syria, filling a void left by the so-called Islamic State.
"Mr. President, with joint efforts we are defeating Islamic State, and this is a very important thing. But the bad thing is that where the defeated Islamic State group vanishes, Iran is stepping in," he told Putin.
"Iran is putting in great efforts to fortify its presence in Syria. This is a threat to Israel, for the Middle East and, I believe, for the whole world," Netanyahu said. "We cannot forget for a minute that Iran continues to threaten to destroy Israel on a daily basis."
Moscow has maintained close ties with both Israel and Iran despite the animosity between the two. Iran and Russia back the regime of Bashar al-Assad in Syria, while Israel has bombed Iranian supply lines to Lebanon's Hezbollah, which is fighting for the Assad regime. Netanyahu accused Iran arming terrorist organizations and of bolstering its control and influence in Iraq, Yemen and Lebanon.
Putin did not make any public statements in response to Netanyahu's comments about Iran's role in Syria. However, Russia's ambassador to the United Nations, Vassily Nebenzia, called the de-escalation zones in Syria "real progress on the way to end that tragic war."
"We know the position of Israel towards Iran but we think that Iran in Syria is playing a very constructive role," Nebenzia said.
In recent months Russia has brokered de-escalation zones in Syria, which Israel said will allow Iranian troops and Hezbollah forces to deploy in greater strength.
Moscow has reassured Israel that Russia's influence will deter both Iran and Hezbollah from opening a new front against Israel.
The Islamic Revolutionary Guard Corps said in a statement on Wednesday that it had no plans to conduct military operations outside Iran's borders.
But previously a senior cleric in the Iranian regime has acknowledged the fact that the clerical regime outrageously considers Iraq, Syria and Mediterranean coasts inside the borders of Iran.
Speaking at the so-called Friday prayers sermon in the northeastern city of Mashhad, Alam al-Hoda, a member of the Iran's Assembly of Experts and representative of the Iranian Supreme Leader Ali Khamenei said on Friday: "Today, it is not as if the Iraqi desert, the Levant, and Mediterranean coasts are outside of this country's borders. Islam's front (the regime's borders) has been established there".
"Troops dispatched from here as defenders of the shrine are making sacrifices in that front. They are in fact the troops of Imam Reza (the eighth imam of Shi'ite Islam whose shrine is in the city of Mashhad) who are dispatched from here to Iraq and Syria to expand this religion (read the religious dictatorship currently ruling Iran)," he added.
The remarks made by one of Iranian regime's high-ranking official regarding the clerical regime's objectives in meddling in Iraq and Syria makes it ever more necessary to evict the Revolutionary Guards Corp (IRGC) and their affiliated proxies from Syria, Iraq and other countries in the region.