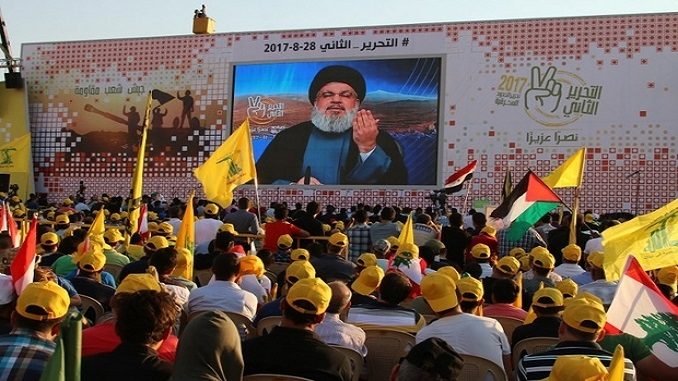 The Trump administration on Friday slapped new sanctions on individuals and businesses suspected of links to Hezbollah, the Lebanese militant group the White House is hoping to isolate in its bid to curtail Iran's influence across the Middle East, The Washington Post reports.
Hezbollah, which the U.S. says has financed terrorism in Syria and Yemen, depends on its ally Iran for more than $700 million a year, said an administration official who spoke on condition of anonymity. Treasury levied sanctions against six individuals and seven entities the U.S. says are tied to the group, according to a statement released Friday.
The sanctions come as the Trump administration seeks to intensify its response to Iran's support for armed groups from Lebanon to Syria to Yemen, which the United States has long complained have attacked American interests and allies, and posed a major threat to Gulf nations.
One senior U.S. official, speaking to reporters on the condition of anonymity because he was not authorized publicly to do so, described the new measures as a blow to the Revolutionary Guard Corps and its elite Quds Force, "which uses Lebanese Hezbollah as really its main means of projecting destabilizing power in conflict zones," including Syria, Iraq and Yemen.
"Hezbollah is a terrorist organization responsible for the death of hundreds of Americans. It is also Iran's primary proxy used to undermine legitimate Arab governments across the Middle East. The administration is determined to expose and disrupt Hezbollah's networks, including those across the Middle East and West Africa, used to fund their illicit operations," Treasury Secretary Steven Mnuchin said in a statement.
The individuals and businesses sanctioned are believed to be linked to Adham Tabaja, a businessman who controls a real estate empire in Lebanon and who officials described as a senior Hezbollah financier. Tabaja has been the target of previous U.S. sanctions. The new sanctions reach far beyond Lebanon, targeting businesses in Sierra Leone, Ghana and Liberia that officials say sit at the nexus of Hezbollah's cash flows.
The six sanctioned individuals include five Lebanese and one Iraqi, most of them linked to Al-Inmaa Engineering and Contracting, the Treasury Department said. The seven entities are firms based in Sierra Leone, Liberia, Lebanon and Ghana, the statement said. Senior Trump administration officials said the sanctions are part of an aggressive move against Hezbollah to try to limit the influence of Iran.
The six individuals were targeted because they are linked to financier Adham Tabaja and his company, Al-Inmaa Engineering and Contracting. The officials described Tabaja as among the top five Hezbollah financiers at the moment. As a result of the Treasury designations, all their assets subject to U.S. jurisdiction are blocked and Americans are prohibited from engaging in transactions with them.
It's not clear what effect such financial measures may have for the people and businesses identified on Friday. What has had a clear impact on Hezbollah's finances, the officials said, is the group's militant activities in Syria, where it has been deployed in support of Syrian President Bashar al-Assad.
Lebanese politicians have warned that U.S. sanctions on Lebanon's banking sector may cripple the country's already struggling economy.