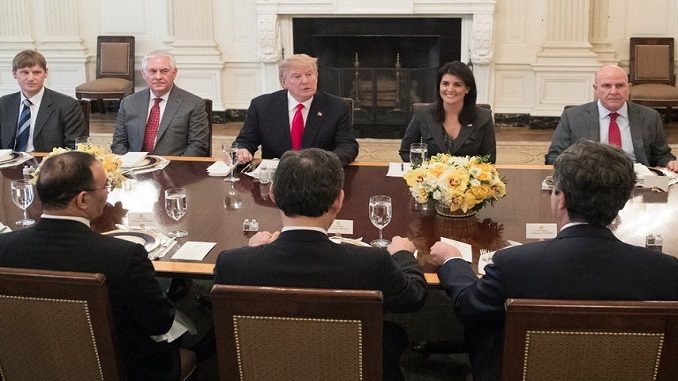 The Trump administration urged the United Nations Security Council on Monday to take action to address Iran's ballistic missile tests and arms transfers to Houthi rebels in Yemen steps top officials said were essential to preserving the 2015 Iran nuclear deal, The Wall Street Journal.
Ambassador to the United Nations Nikki Haley led the 14 other members of the Security Council on a trip to Washington that included lunch with President Donald Trump and a stop at a military hangar to see what the U.S. says is evidence that Iran is arming Houthi rebels in Yemen. They also visited an exhibit on Syria at the Holocaust museum. Haley said she pressed fellow Security Council members.
"'If you don't do anything about all of these violations, I can't promise you that we're staying in the deal,'" she said. "Something has to be done."
The goal of the trip to Washington wasn't to focus on the 2015 nuclear accord, but on other concerns about Iran's behavior in the Middle East, she said.
"Even though the nuclear deal is one thing, we can't tiptoe around Iran and give them a pass on all of these other things," she said. Iranian officials didn't immediately respond to a request for comment.
The nuclear accord came up during a lunch with Trump, where they also discussed Yemen, North Korea, and Syria. The administration is discussing the international agreement with European allies ahead of a May deadline set by Trump to halt sanctions relief without changes in the deal. Trump told the UN ambassadors he believed the nuclear agreement is "a really bad deal." He also told them that other actions by Iran are "clear violations" that require action.
A UN panel of experts concluded in a report earlier this month that Iran violated an arms embargo by supplying weapons to Yemeni rebels. But at a meeting last week, several countries including Russia, China, and others said the conclusion was "circumstantial" and not sufficient to merit Council action, according to sanctions experts familiar with the meeting.
At Monday's White House meeting, all 15 members of the Security Council had representatives present, a U.S. official said. President Donald Trump on Tuesday accused Iran of destabilizing West Asia, as his United Nations ambassador sought to bolster that argument by showing fellow envoys what she said was debris from an Iranian missile fired at Saudi Arabia. Meeting at the White House with members of the UN Security Council and his own national security team, Trump said the group had "much work" to do. He drew up a daunting list of objectives, including countering "Iran's destabilization activities," ending the Syrian conflict, combating terrorism and denuclearising North Korea.
The ambassadors, including Russia's ambassador the United Nations Vassily Nebenzia, posed for photos with Trump, though not in the Oval Office. Trump reiterated his positions on a range of issues in conversations with envoys, Haley said.
"He wasn't anything like we see on TV," Haley said several ambassadors told her after the luncheon.
Iran's foreign minister, Mohammad Javad Zarif, wrote on Twitter that the field trip had been an attempt "to create an Iranphobic narrative at the UN Security Council through wining and dining and fake 'evidence.'"
"A while ago U.S. showed a Saudi-supplied Iranian missile intact. They must've been told a missile destroyed by a Patriot does not land fully assembled. So now US shows UNSC missile fragments w/ Iranian Standard Institute logo, as on our foodstuffs. Try fabricating 'evidence' again," Zarif said in a message posted on his official Twitter account on Tuesday.
In another tweet in reaction to the U.S. show, Zarif said, "In the fake news department, Trump & Co. attempt to create an Iranphobic narrative at the UN Security Council—through wining and dining and fake "evidence" provided by a warring neighbor—that would pass muster with only the same desperate neighbor & its accomplices in war crimes."
Neither Haley nor Trump articulated what the administration had hoped to achieve from the visit. Iran is already subject to United Nations sanctions limiting arms sales. Russia and China, which have veto power in the Security Council, are unlikely to support additional restrictions.
Most of the ambassadors from the other 14 Security Council members refrained from commenting publicly about the day of touring. On Twitter, Ambassador Jonathan Allen of Britain said that the representatives had been shown "clear evidence" that Iranian-made weapons were used by Houthis in Yemen, though it was unclear whether he believed Iran's government was guilty of sanctions violations.
He posted photographs of welding on a missile that he said indicated the weapon had been "cut in half, presumably for smuggling." He wrote that the date stamp suggested the weapon had been delivered after the arms embargo on Yemen had taken effect.
Most of the materials were provided to the United States government by Saudi Arabia, Iran's main regional rival. Saudi Arabia and Iran have been locked in what is essentially a proxy war in Yemen, and human rights groups say both sides are guilty of abetting a colossal humanitarian disaster.