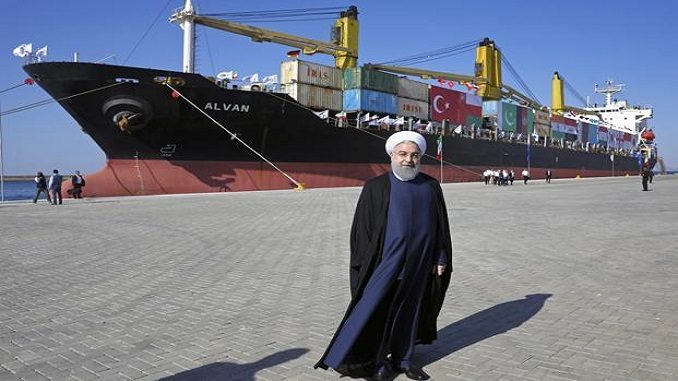 Iran has launched the first phase of a strategic southeastern port which it expects to open a multi-modal trade corridor connecting India to Central Asia, Press TV reports. The first phase of Shahid Beheshti International Port in Chabahar, Sistan-Baluchestan Province, was inaugurated by President Hassan Rouhani during a ceremony also attended by officials and dignitaries from 17 countries.
President Rouhani said during the ceremony that the inauguration of the project marked a historic day for Iran – particularly for the people of Chabahar which Tehran hopes will help the country become a key transit route to land-locked Afghanistan and Central Asia, competing with a nearby Pakistani port.
"This port is also significant from the political point of view given that it connects Iran with its eastern and northern neighbors and at a later stage to European states," Rouhani said.
The $340 million project was constructed by a Revolutionary Guard-affiliated company, Khatam al-Anbia, the largest Iranian contractor of government construction projects. It involved several subcontractors, including a state-run Indian company, and brings the capacity of the port to 8.5 million tons of cargo annually, from the previous 2.5 million tons.
The extension includes five new piers, two of them for containers allowing cargo vessels with up to 100,000-ton captaincy to dock.  It is also expected to make Chabahar, Iran's closest sea link to the Indian Ocean, a rival to Gwadar Port, some 80 kilometers away across the border in Pakistan, which Pakistan has been building with Chinese investment.
Rouhani, however, downplayed the rivalry in his inauguration speech and said the port will bring "more engagement and unity" among regional countries.
"We should go after positive competition," he said. "We welcome other ports in the region, we welcome Gwadar's development."
India's foreign ministry said that junior shipping minister Pon Radhakrishnan had represented the country at the inauguration of Phase-I of the Shahid Beheshti Port, attended also by ambassadors and senior officials of the region.
India, Iran and Afghanistan held a trilateral ministerial meeting on the sidelines of the event, resolving to develop their port, road and railway networks to open up greater access to regional markets and better integrate their economies.
"The routes of the region should be connected on land, sea and air," Rouhani said at the event, his office said.
Under an India-Iran agreement signed in May last year, New Delhi is to equip and operate two berths in the port's Phase-I, with a capital investment of $85.21 million and an annual revenue expenditure of $22.95 million, on a 10-year lease. In May last year, India, Iran and Afghanistan had inked an agreement that entailed the establishment of a "transit and transport corridor" among the three countries.