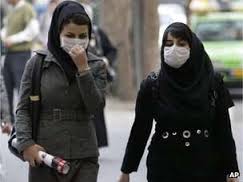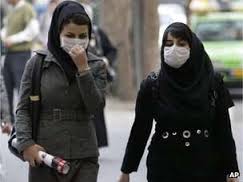 In the past days, the alarming levels of air pollution in Tehran and other major cities have forced schools to shut down for several days, caused health hazards for the local population, and triggered a fierce political infighting in Iran.
Many conservative politicians and media outlets criticize the Rouhani government for failing to tackle the worsening air pollution problem. At the center of their criticism is Masoumeh Ebtekar, a vice president to President Hassan Rouhani and head of the Environment Protection Organization.
Habib Kashani, a member of City Council of Tehran, accuses the EPO of "incompetence" and claims the air pollution contributed to the death of 412 people in Tehran over the past 20 days.
Some hardline newspapers such as Javan, a mouthpiece of the Islamic Revolution Guards Corps (IRGC), also blame the policies of Rouhani's oil minister Bijan Zangeneh for deteriorating environmental problems in the country.
In contrast, while reformist newspapers and analysts regularly warn about health and economic detriments of pollution in major cities, they urge conservatives not to exploit the situation for political gains but instead try to find solutions to the problem.
Sadeq Zibakalam, a Tehran University lecturer and reformist, for example, defends Ebtekar's record and accuses conservatives of being disingenuous.  He explains that conservatives have a monopoly over state-run media and use them for political propaganda. He points out that what conservatives do not tell people is that Iran's budget for cultural propaganda is ten times more than that of environmental issues.
As Iran is nearing the presidential election slated for next May, political wrangling in Iran over air pollution will only escalate as conservatives will try to blame the deteriorating problem on the incumbent president.